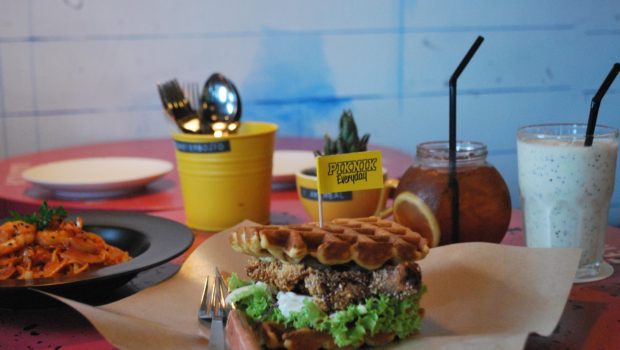 Diverting from the norms of our usual café trails, we are bringing you a focused menu. This time, its savory waffle and we just got to the place where we can find not only the best waffle but a unique café.
PIK NIK-EVERYDAY
This new branch of PIK NIK, called PIK NIK-Everyday situated at the booming Jalan Raja Uda on Penang's mainland is a one to watch for.
Walking into the café, you will notice the naughty paintings and scribbles on the wall made by some local artists. The works of artists like Bibichun, Kangblabla, Sliz and Ammar Khalifa will surely take you back to your school days.
The eccentric design of the café is complimented even more by the unique custom-made design of the furniture. Some of them are made from PVC pipes and iron rods. They even have half of a school bus in the café! Stationed as part of the kitchen and cashier, the bus was cut in half at the Hin Bus Depot before it called the café home.
As you walk further to the back of the café, you can see the neon that says, "good friends never bojio". Bojio basically means not inviting your friends along and we think the same, this place is certainly not for loners so bring your friends along!
SAVOURY WAFFLES
Now this is the new twist to the usual classic waffles. Savory waffle is the type where two slices of good old classic waffles are served with some meat. I really enjoyed their special Big CC waffle burger. The warm familiar ambience accompanied me as I munched away on the soft and fluffy waffle and the crunchy slice of chicken. It was utter deliciousness. Don't forget to order their chewy mochi waffle topped with pistachio ice cream, Pistachio Moffles. This one is chewily mind-blowing.
Wei Ming, the manager and one of the two behind the brand is one charming guy and will surely be delighted to advise you in terms of menu selections. Plus, if you ever find yourself chatty, he will tell you how to have fun in Penang, the right way