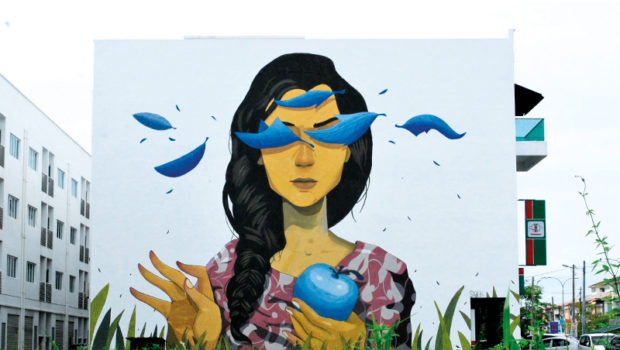 Arts explosion in Jalan Raja Uda
Some of us think that Georgetown is the only place to see fabulous street art in Penang. Apparently not! There are actually lots of street art scattered outside of the Georgetown Heritage Core. One such place is Jalan Raja Uda, a long stretch of street located in Butterworth, Penang. This street is pronounced with creative outbursts and images of fascinating illustrations, murals, and abstract paintings. Here, you can spot three modern artistic works if you fi nd yourself within the vicinity.
1. GIANT 3D MAN & TURTLE BY MARTIN RON This latest addition to Jalan Raja Uda's collection is by far the biggest mural in Penang and the fi rst large-scale artwork in Penang mainland. The Argentine street artist, Martin Ron, made full use of the segmented wall structure to produce a hyper realistic portrait. The surrealist artwork is inspired by the turtle conservation project in Pantai Kerachut, Penang National Park.
2. 'DECISIONS' BY SABEK 'Decisions' is painted on a three-storey- high building and is the imagination of a Spanish artist named Sabek. His trademark features imageries rendered from nature and animals. This specifi c mural depicts a fi nely portrayed face and fi ngers of a girl holding an apple while surrounded by fl ying leaves. It seems like the girl is contemplating whether or not to eat the apple.
3. MYSTICAL ABSTRACT BUTTERFLY BY NAFIR From afar, this abstract painting looks like an Indian kolam that is usually painted during Deepavali festivals. But on closer inspection, you can clearly see that the painting is actually a 3D butterfly with beautifully elaborated patterns. This mystical butterfly was painted by an Iranian street artist known as Nafir.