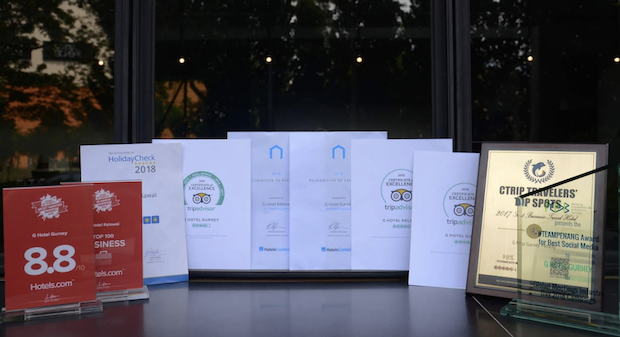 'Avalanche' of awards for G Hotels
For G Hotel, good things come by the dozen – literally. The hospitality group's two properties in Penang – G Hotel Gurney and G Hotel Kelawei recently won a combined total of 12 local and international accolades.
For G Hotel Gurney, the awards were an 8.8/10 rating by Hotels.com, recognition as a Hall of Fame by TripAdvisor, Best Business Travel Hotel in Ctrip Travellers Top Spots 2017, Best Social Media for Global Meetings Industry Day 2017 campaign by Penang Convention and Exhibition Bureau and the Service Excellent Hotel accolade from Luxury Travel Guide Awards 2018.
G Hotel Kelawei has been recognised as a Top 100 Business Hotels by Hotel.com. It has also been rated 5.7/6 by Hotel Check and The Bizz Awards by WorldCOB.
Both also won the Recognition of Excellence award by Australia-based hotel meta-based company HotelsCombined. G Hotel Gurney scored 8.6/10 and G Kelawei chalked up 9.1/10 ratings from guests to win these awards.
Last but not least, both hotels were also awarded Certificates of Excellence for Outstanding Traveller Review by TripAdvisor.
General manager Michael Hanratty says the recent "avalanche" of awards has sealed the G Hotel's reputation as a world class accommodation, five-star hospitality and outstanding service.
The two hotels now have a combined total of more than 100 accolades. To maintain their award-winning streak, they consistently work hard to maintain their exceptional services and facilities, Hanratty adds.