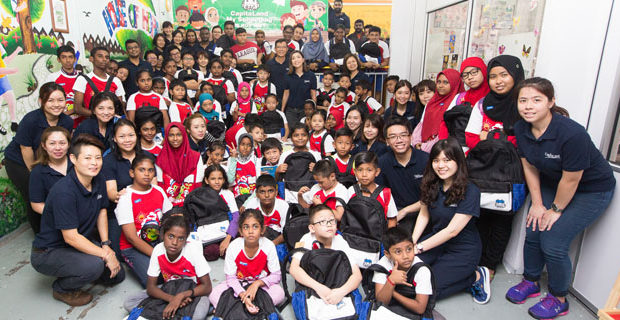 CapitaLand Group shares and cares
Children at the House of Hope in Ayer Itam can now enjoy their newly-refurbished centre, thanks to a team of volunteers from Queensbay Mall and Gurney Plaza recently.
The team, numbering about 40, came armed with paint brushes, brooms, screw drivers and mops repainted the premises and presented them with new furniture as part of a corporate social responsibility (CSR) project.
They equipped the resource centre and study corner with tables, chairs, bookshelves, mats and cushions and stocked the study corner with textbooks, reference books and dictionaries under the "My Schoolbag" programme.
The project was part of the CSR programme of CapitaLand and CapitaLand Malaysia Mall REIT Managment Sdn Bhd's joint and first "Volunteer Day" in Malaysia.
Similar CSR programmes had been held simultaneously in Selangor and Kuantan to refurbish children charity homes where more than 150 volunteer staff were involved.
The homes that benefited were Desa Amal Jireh In Selangor and Rapha Children's Home in Kuantan.
A total of 322 underprivileged children benefitted from the donations of school and daily necessities worth RM165,000.
The Volunteer Day project was first launched in 2013 in Singapore during which the company provided staff time off from work to contribute towards enhancing the lives of  underprivileged children.
The project was later extended to its staff in China the following year and to Vietnam in 2015.
"CapitaLand has always held the belief that corporates can play an important role in contributing towards the building of an inclusive and caring society.
"Our corporate value of nurturing staff to build and care for the community is encapsulated in our company credo – Building People. Building Communities," said Tan Seng Chai, group chief corporate officer of CapitaLand Limited and executive director of CapitaLand Hope Foundation.
The My Schoolbag project will benefit over 21,000 children in Singapore, China, Malaysia, Japan, India and Vietnam.