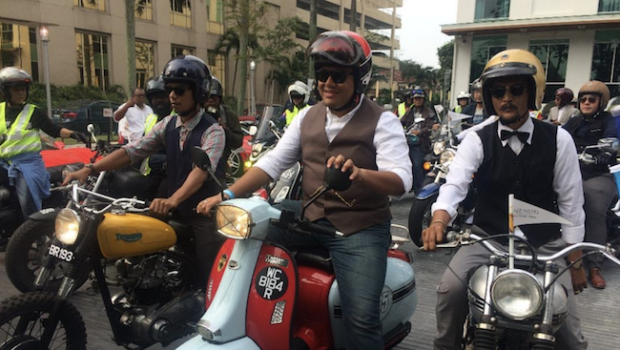 Distinguished gentlemen ride for a good cause
At first glance, it seemed incongruous – men in tailored suits, silk waistcoats, crisp shirts and stylish caps arriving for the occasion on Harley Davidsons, Triumphs and Hondas.
Unlike the stereotype image of a biker – think leather jacket, seasoned denim and long hair – these gentlemen are conversationally polished, and they ride for a good cause.
About 500 of them from all over the Northern Region thronged the Vouk Hotel in George Town recently to help raise awareness for ailments that men suffer late in life – prostate cancer and mental illness.
"The Vouk Hotel believes in giving back to local communities and holds at least one corporate social responsibility (CSR) project per month," said Vouk Hotel management operations director Dennis Cheng.
This was the Distinguished Gentlemen's Ride (DGR) 2018 – a global initiative launched by Mark Hawwa in Sydney, Australia, in 2012. That first ride saw 2,500 participants in 65 countries.
The riders, including a handful of women and foreigners, also managed to raise the targeted US$1,000 (RM4,014) that will go towards the cause. The global target is US$6 million.
The GDR in Penang was flagged off by Deputy Tourism, Arts and Culture Minister Muhammad Bakhtiar Wan Chik at the Vouk Hotel. The riders rode around the city, with stops at the Esplanade and the Jazz Hotel in Tanjong Tokong.
Also at the event were Penang Deputy Chief Minister I Datuk Ahmad Zakiyuddin Abdul Rahman. State executive councillor for Health, Agro-Based Industry and Rural Development Dr Afif Bahardin was one of the riders.
Part of the funds raised will go to the Penang Hospice Society, said organising chairman Zam Ahmad.
"We also want to combat the negative image of men on motorcycles while connecting riding communities worldwide," he added.