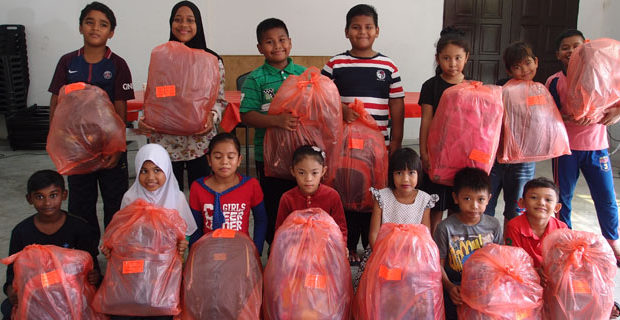 Eastern & Oriental Berhad donates school bags
Needy children from fishing communities in Tanjong Tokong, Gurney Drive and Tanjong Bungah received school bags to prepare for their up-coming school term next year, courtesy of Eastern & Oriental Berhad recently.
The happy faces of the 16 children aged from seven to 12 showed their appreciation. They were the final batch of recipients for the year to benefit from the group's yearly school necessities assistance programme.
Earlier, a total of 145 deserving students from five schools in the Seri Tanjung Pinang vicinity had also received similar items worth RM155 each.
The handing over ceremony was held at Dewan Desiran Tanjung Pinang here saw the schoolchildren receiving a school bag, a set of school uniform, a pair of school shoes and socks each.
The students are from SK Tanjong Tokong, SJK (C) Hun Bin, SJK (T) Azad, Tadis Ar-Rasyiddin and SK Pendidikan Khas Persekutuan Pulau Pinang.
E&O senior general manager Datuk Zawawi Yusop says the assistance was part of the group's long-term commitment to the welfare of the less fortunate families within the communities that the company operates in.
"We began providing the assistance to schoolchildren within the Tanjung Tokong area since 2013 and have since made this a yearly practice with the hope of alleviating parents' burden and simplifying the process of purchasing school supplies for their children.
"Apart from school necessities, E&O has also provided support for schools to conduct literacy classes as well as sponsoring annual events such as sports day and school excellence day.
"We also work closely with the schools to conduct our Think Green long-term community engagement programme with the Consumers' Association of Penang as our primary community outreach partner," says Zawawi.
The Think Green is E&O's community education programme aimed at nurturing and inculcating eco-consciousness, healthy living and community spirit in the Tanjung Tokong area.