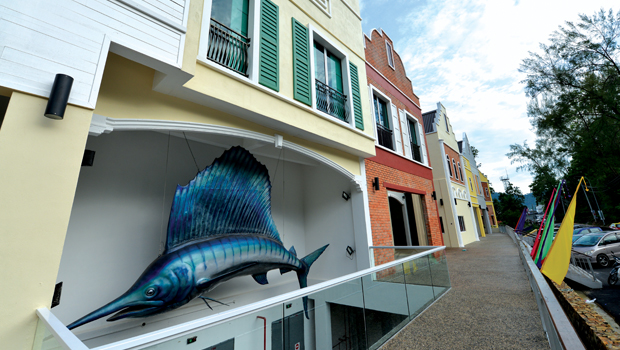 Fisherman's Wharf Langkawi
After a massive recent redevelopment at the Royal Langkawi Yacht Club, the new Fisherman's Wharf Langkawi is getting ready for business.
Fisherman's Wharf Langkawi is just a 150-metre walk from the Kuah Jetty and 500-metre walk from the Westin Langkawi Resort & Spa and the new St Regis hotel which is linked to the Westin via buggy service.
With its mixed seaside development of over three floors and a space of more than 21,000 sqft, the Fisherman's Wharf houses the famous Charlie's Bar & Grill on the Lower Ground which offers spectacular views of sunset and an extensive menu comprising of local and international all-time favourite dishes.
The Lower Ground houses new offices of several yacht charter companies such as Northrop & Johnson (Superyacht Business Charter), Naam Cruise (various types of Yachts), Asia Pacific Superyacht (superyacht agents), Seasplash (Deep Sea Fishing Charter) and Langkawi Yacht Broker, just to mention a few.
On the Ground Floor of Fisherman's Wharf, visitors have a multitude of new dining options with many new restaurants opening its doors within the next few weeks.
Confirmed tenants, as of printing of this issue, are Starbucks, Jake's Charbroiled Steaks, Little Mexican, Captain Cook Seafood, Langkawi Creamery and Gelato, Scarborough's Fish and Chips, Tajine Moroccon restaurant, a Pizzeria as well as a sunset bar. Besides these culinary choices, there will be offices of East Marine Diving (Diving and beach apparel and apparatus), a tailor, a moneychanger and several souvenir shops.
Within the First Floor of the Fisherman's Wharf building is the newly-opened Langkawi Yacht Club Hotel. It is open for business since May this year with 44 rooms that offer various rooms from Seaview, Courtyard rooms and Hill view rooms.
The Fisherman's Wharf is fully committed to make this new development a new epicenter of tourism in Langkawi and ensure the success of its business partners.
The Wharf will be accessible by a shuttle service every 30 minutes to/from major hotels in the vicinity from 11am to midnight.
Stay tune to the regular weekly entertainment activities on-site that includes cultural, music and dance shows.
From upper-end fine dining to casual or lunch-to-go as you pass by on your way to other activities in the Marina, the restaurants on Fisherman's Wharf provide a unique dining experience. All restaurants on the Wharf are open daily throughout the holiday season! Fisherman's Wharf Langkawi brings together a variety of restaurants to create a unique and multicultural experience that appeals to a broad spectrum of visitors from around the world.
Fisherman's Wharf and the new Yacht Club hotel is also an ideal venue for weddings or for other events & private parties as well. Located near the Kuah Jetty, Fisherman's Wharf Langkawi with all its restaurants will attract locals and tourists alike.
Come and see how the Royal Langkawi Yacht Club has transformed with the new Fisherman's Wharf development. With a contemporary modern décor and spectacular marina views, it dishes out local favorites and specialties combined with friendly service amidst an open lively casual ambience.