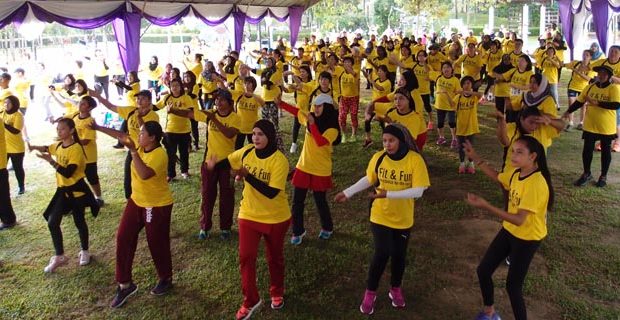 Fun and lively dance at Straits Green Public Park
Some 200 energetic participants danced their way to lively chart topping tracks at the Fit & Fun Aerodance By-The-Sea community event here recently in Tanjung Tokong, George Town.
The participants clad in striking yellow workout t-shirts livened up the serene Sunday morning at the Straits Green public park with their brisk and spirited moves.
Paying close attention to dance steps demonstrated by instructors from Penang-based Mansor Mat Fitness Group, the participants, young and old, gave their best to vie for the top 10 most energetic participant awards.
Tanjung Pinang Development Sdn Bhd chief operating officer Mark Schoonheim said the community event was yet another annual 'tradition' by Eastern & Oriental Berhad (E&O) to emphasise the importance of a healthy lifestyle.
"The enthusiastic response from our participants over the past two years is evident that such event not only serves as an ideal platform to promote a healthy lifestyle, it also brings people within the Tanjung Tokong vicinity together.
"It is indeed heartening to see people from diverse cultural backgrounds and religion gathering here for the same goal – for a healthier body, mind and soul," he said.
Schoonheim later presented prizes to the 10 most energetic performers as well as lucky draw prizes to 20 participants.
The participants also received a goodie bag containing a breakfast set each.
As an ongoing year-round activity, E&O also organises free dance/aerobics sessions for the public at Straits Green public park every Fridays, from 6pm to 7pm.