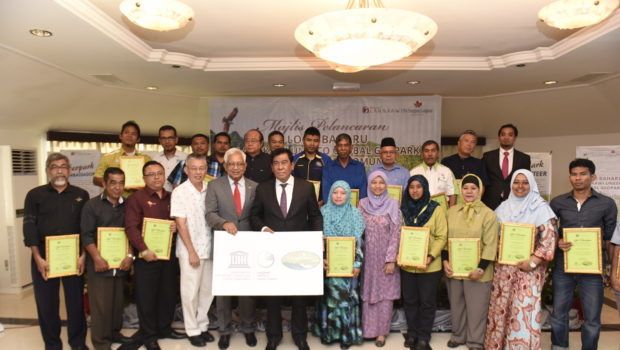 Langkawi Development Authority (LADA) launched a new logo for Langkawi UNESCO Global Geopark on 28February. The ceremony also witnessed the appointments of Geopark Ambassadors as par t of their Geo-Community initiative from among the key players in Langkawi's tourism industry.
The criteria for appointment takes into account the efforts put in by these individuals to promote the island. This is a crucial step in ensuring Langkawi keeps its reputation as a UNESCO Global Geopark. A Geopark is defined by UNESCO as a designated area containing sites with geological importance, and aims to promote public awareness through conservation works.
These Geopark Ambassadors are expected to provide precise and accurate information about Langkawi as a UNESCO Global Geopark to visitors. Other than that, they are expected to raise awareness among locals to maintain site's natural beauty.
The objectives of appointing these ambassadors are to assist in promoting the island as a tourist destination through organizing appealing events to draw tourists. They are responsible for projecting Langkawi's image positively so that the locals may benefit from the economic opportunities that come with the expenditures incurred by tourists.
Geopark Ambassadors are a brilliant way to present Langkawi to the world.