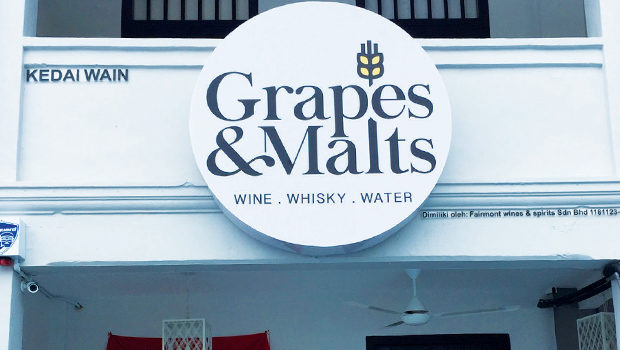 Wine is made from grapes and whiskey from malts. So as the name will tell, Grapes&Malts is a wine and whiskey place.
This latest bistro at 46, Jalan Chow Thye, in Penang is tailored exclusively for people to meet, socialise and engage in networking. The laidback atmosphere is appealing to those who want a quiet evening out.
Grapes&Malts is divided into a lounge area and the courtyard. The lounge comes with easy to slump-in sofas, comfortable settees with low tables, and a homely feel. In the courtyard, high tables with bar stools and tables made of converted wine barrels occupy the area. The courtyard is suitable for those who want to engage in more lively conversations while the lounge is suited for more intimacy.
There is also a private room comfortable for a small gathering of 8 people. Grapes&Malts is also ideal for private functions. Every now and then, Grape & Malts will hold wine talks with wine sommeliers and whisky tasting hosted by experts.
The bistro boasts reasonable and affordable pricing. A bottle of wine costs between RM70 and RM700, with most averaging around RM150.
There is also a wide variety of over a hundred labels of wines to choose from different regions in the world. Vintage wines are imported from France, Italy, Germany, Portugal, and Spain. Newer labels hail from Australia, New Zealand, Chile and Argentina.
Choose your favourite wine or whiskey to accompany any array of tapas-portioned food or tease your palates with naturally flavoured ensembles.
For reservations or details on Grapes & Malts, call 04-228 1628.