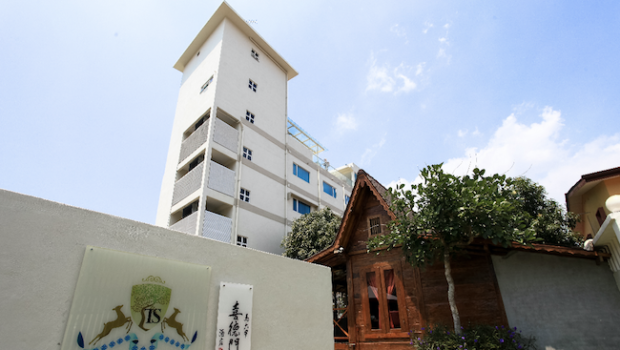 History in a boutique hotel
If you're taking a walking tour of the Melaka UNESCO World Heritage Site, you could add the historical Settlement Hotel to your list of places to visit.
While it's not exactly located in the city centre, it is still within the heritage area, and it's worth the effort to take a detour there if you can. The boutique hotel is a 10-minute drive or a 30-minute trishaw ride from the A Famosa fort.
It is located on a humble spot along Jalan Ujong Pasir, near the Portuguese Settlement, which is off the route to the main tourist attractions. Nonetheless, it turns out to be the perfect place in which to relax and chill out.
On reaching the Settlement Hotel, you will first step into a traditional English garden with a majestic looking fountain set against the whitewashed façade of the hotel. As you walk through the entrance, you are greeted by beautiful pergolas of pleasant pink bougainvillea. It is a gorgeous sight.
Beside the pergolas sits a white wicker swing chair. There's no better way to spend a lazy afternoon than to curl up in one of these chairs.
But the main attraction – the real deal – for any visitor has to be the ornately carved 350-year-old Sultan Bed from Palembang, Sumatra. It sits on the verandah, next to the white wicker swing chair.
If you remember you history lessons well, you will know that the founder of Melaka, Parameswara, was a Palembang prince who fled Majapahit invaders to reach Melaka. He established an empire that would last more than a century. At its height, Melaka controlled all of the Malay Peninsula and a large part of Sumatra.
On the site where the Settlement Hotel now stands was a four-storey government building. The Sultan Bed used to be housed in that building.