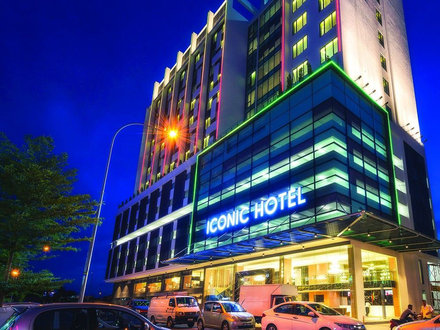 Iconic Hotel to expand to Penang Island
The Iconic Group will have a second hotel – on Penang Island – come 2023. Preliminary work on the new RM120 million Iconic Hotel is already under way at its location in Sungai Nibong.
The 306-room property is in addition to its current one – the four-star 195-room Iconic Hotel in Bukit Mertajam.
At the hotel's second anniversary celebrations recently, general manager Kevin Cheah said its property in Bukit Mertajam has already gained recognition for its design, guests' experience and hospitality.
"We also won the Chinese Preferred Hotel award given by Ctrip," he told the guests. Ctrip is a provider of travel services in China.
The hotel laid out a lavish party to mark its new milestone. Cheah and his team feted the guests at the lobby before introducing them to its newly refurbished Crumbles & Cream outlet that offers signature homemade desserts and high-tea sets.
Also present at the celebrations were Iconic Group chairman Dato Lucky Tan and director James Tan.
A saxophonist serenaded the guests while they chatted and mingled over fine wine.
The highlight of the evening was the unveiling of the doughnut wall by the board of directors. The wall is a galaxy-coated doughnut with pink and gold finishing.
The hotel has also upgraded its front office system to enhance check-in experience, while wifi speed for guests has been raised to 300mbps.