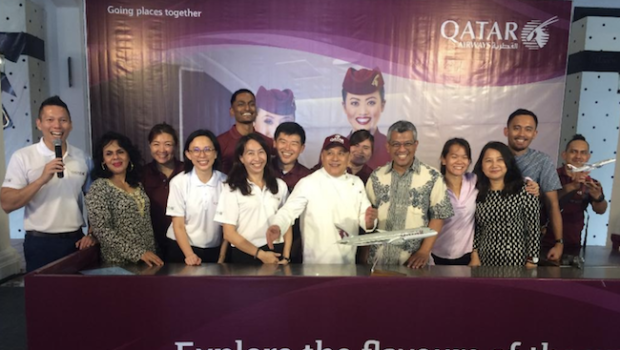 Journalists cook up new flavours at Qatar Airways food fest
Hidden talents were unearthed when several members of the media put down their pens to don aprons and labour over the stove recently.
Under the watchful eye of Malaysia's celebrity chef, Chef Wan, and Qatar Airways country manager for Malaysia and Brunei Dato' Muzammil Mohamad, the participants worked in pairs to cook up three international dishes each.
The cooking challenge, organised by Qatar Airways and hosted by Gurney Paragon Mall, was part of the on-going Flavours of the World promotional campaign by the airline.
"Penang is known as a destination for gourmets. What better way than this to introduce new cuisines from all over the world to the local mix," Muzammil points out.
The Flavours campaign is also a drive to promote Qatar Airways. During the campaign period, the airline is offering a 10% discount on fares to selected destinations, including Istanbul, Paris, Frankfurt, Amsterdam and Cape Town.
The airline is also launching new routes to Mombasa in Kenya, Da Nang in Vietnam and Gothenburg in Sweden in December. It already flies to 150 destinations around the world.
Muzammil says the airline hopes to fly directly to Langkawi soon to offer better connectivity for business and leisure travellers from all over the world.
"Our state-of-the-art Boeing 787 Dreamliner offers maximum comfort and safety for travellers," he says. Qatar Airways has won the World Best Business Class award for three consecutive years since 2016.
Muzammil adds that the airline's Q Suites, which offer double or quad-bed convenience, have also won accolades.
The three-day event was organised to explore the flavours of the world with Qatar Airways. "We want to take Malaysians on a culinary adventure through Europe, the Americas, Africa and the Middle East. This, we hope, will pique their interest when selecting their next travel destination," he adds.
A personalised cooking workshop, guided by Chef Wan, gave participants a chance to sample the many exotic flavours from the four regions that Qatar Airways flies to.