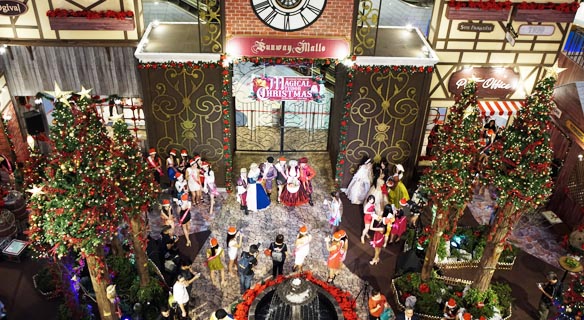 A magical Christmas at Sunway Malls
The celebration unveiled with a magical Tudorian style performance by energetic dancers. Guests of honour HC Chan, CEO of Sunway Malls & Theme Parks; Kevin Tan, COO of Sunway Malls; KS Wong, Senior General Manager of Sunway Velocity Mall; Phang Sau Lian, General Manager of Sunway Putra Mall; Chow Heng Wah, General Manager of Sunway Carnival Mall; and Albert Cheok, Centre Manager of Sunway Giza officially launched the campaign by signing on specially designed Sunway Malls postcards which signifies a community engagement effort by all malls this festive season.
To bridge the distance between loved ones this season, shoppers can customise their own greetings and send a festive postcard to their loved ones by visiting any of the Sunway Malls throughout the campaign period. After writing on the postcard, shoppers can affix a Sunway Malls stamp and mail it at the concourse.
This Christmas, shoppers can redeem a Classic Journal by spending RM800 (RM700 for HSBC Credit Cardholders or Parenthood Playland tickets with spent of RM400 (RM300 for HSBC Credit Cardholders) at Sunway Pyramid.
At Sunway Pyramid, a classic Christmas awaits at the magical Tudor-style Christmas concourse from 24 November 2017 till 1 January 2018 at the LG2 Blue Concourse.
Take a walk down the cobblestone streets, lined with towering Christmas trees and vintage store houses to invoke the feeling of a quaint Tudorian town. Strike a pose at the interactive photo booth at the concourse, and get a photo printed instantly! Come say hello to Santa on weekends and sort out your Christmas gifts with a variety holiday deals and seasonal offerings at over 900 specialty outlets in the mall.
In an effort to improve child safety in the mall, parents and guardians can grab a free Child Safe Emergency Contact Tattoo other family facilities such as double strollers, toddler wheelie and child wrist links at the Concierge counters located on G Floor and LG2 (near Marrakesh).
In conjunction with their first anniversary, Sunway Velocity Mall is offering a 3-tier redemption starting with spending of RM200 in maximum of 3 receipts (RM100 for HSBC Credit cardholders), where shoppers can redeem F&B or fashion cash vouchers. Those who spend RM600 in maximum of 4 receipts (RM500 for HSBC Credit cardholders) are entitled to redeem an exclusive Time For Celebration "Animal Characters Hoodie Neck Pillow", featuring different characters every week! Spenders of RM1,000 in maximum of 5 receipts (RM900 for HSBC Credit cardholders) will walk away with a Time For Celebration Beauty Gift Box.
Sunway Velocity Mall is welcoming the Christmas season and year-end sale with a grand carnival. From 30 November 2017 to 1 January 2018, explore an extravagant carnival affair with Tudor-inspired hanging décor, acrobatic animals and more at Sunway Velocity Mall's Main Atrium, Ground Floor.
Drop by the games booth where you can win F&B cash vouchers and head up to V Boulevard on First Floor to pose and snap a picture with a 14-foot Paddington Bear. Catch Santa roaming around Ground Floor for some sweet treats and mystery gifts! Revel in the beautiful sounds of the carolers at the Yamaha instrumental performances or catch the acrobatic acts featuring a balancing troupe, magician, ventriloquist, clown, and pro jugglers.
Not to be missed is the Christmas workshop for kids, held every weekend and public holiday where kids can create snowman crafts, felt Christmas stocking crafts, stained glass ornaments and much more.
Over at Sunway Putra Mall, spend a minimum of RM350 in two receipts to redeem a Classic Wooden Nutcracker, available in 3 designs! HSBC credit cardholders will also receive a Limited Edition Christmas Gift Set from The Body Shop when they shop at Sunway Putra Mall.
Sunway Putra Mall is set to welcome you with The Gift of Christmas from 30 November 2017 till 7 January 2018!
Standing tall in the middle of the main concourse is a 23-foot Christmas Toy Rack with Santa on the top. Get ready to be transported to Santa's toy factory, surrounded with toys of all shapes and sizes, mechanical gears and a larger than life Santa's workshop.
With RM50 spent at any outlet in Sunway Putra Mall, shoppers can visit Santa's toy factory and complete fun tasks to earn gifts. Win attractive prizes worth up to RM80,000 when you spend and spin the Magical Christmas Wheel, or download Sunway Putra Mall's Augmented Reality App to win!
On weekends, be entertained by Santa's little helpers and Christmas carols that will surely uplift the spirit of Christmas. Meet good ol' jolly Santa Claus every weekend and share your Christmas wish list with him.
At Sunway Carnival Mall, shoppers can redeem a classic journal writing gift set which comes with a quill pen when they spend RM450 (RM350 with HSBC credit card) in two receipts.
At Sunway Carnival Mall, step back in time and explore the magical world of a Tudor Christmas from 1 December 2017 until 1 January 2018.
Featuring a Tudor Christmas theme this year, a 25 foot clock tower takes the centre stage, flanked by a horse-drawn carriage, timber decked cabins, a man-made fountain and elevated Tudor townhouses. Don't miss the towering Christmas trees ornamented with elegant gold and red baubles for a true Christmas atmosphere.
Take a moment to listen to some carols and enjoy traditional Tudor musical dances with your family. Kids will get to play dress-up as Tudor characters for photos, and shoppers can stand a chance to win a Huawei smartphone by joining Sunway Carnival's Facebook contest.
Over at Sunway Giza, don't miss the Christmas themed weekend bazaar from 30 November till 31 December 2017 which features a variety of toys, accessories, children's fashion and more. From 15 to 26 December 2017, shop for festive costumes and traditional snacks at their Christmas Fair.
From the very first Dream Color Taiwanese drink outlet in Malaysia to traditional Chinese cuisine at Go Noodle House, Sunway Giza is proud to be home to over 40 F&B shops where shoppers can dine-in with their loved ones.
Stay tuned to each Sunway Malls' Facebook pages for updates on Christmas activities, promotions, events and much more!