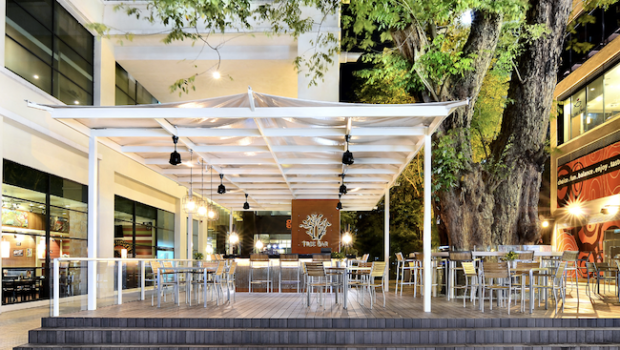 Mark Oktoberfest at the Tree Bar @ G Hotel
The time has come again for a day-long food and beer binge. This time it will be at the Tree Bar @ G Hotel, Penang, on Oct 27.
The partying will begin at noon and will continue till 1 am, and G Hotel promises that it will be galore of fine food, the best beers and great entertainment all rolled into one.
A must-try item on the menu is the Grilled Neuberger Sausage. Specially created for the occasion by the chef, this is a curled chicken sausage served with the classic currywurst sauce, mustard, traditional Sauerkraut and homemade mashed potatoes.
Otherwise, you can indulge in the Crunchy Chicken Schnitzel, a breaded chicken served with traditional Sauerkraut, fries and mayonnaise.
At only RM20 for each of these items, plus an additional RM5 for an Oktoberfest merchandise of a mug or a yard for your collection, this promises to be very easy on the wallet.
Other items on the menu are Onion Rings, Vegetable Spring Rolls, Meat Balls, Nachos with guacamole and tomato salsa, fries and more.
From the dairy farm comes the Mozzarella Cheese that is lightly breaded and fried to crispy perfection. It's is a great snack to go with the Mexican garlic salsa and extra virgin olive oil.
Also, try the Crab Cakes that are served with Asian style hot chilli sauce for a lips-numbing sensation.
Guests can challenge each other in the beer drinking or stein mug holding competitions for a chance to win an exclusive Oktoberfest merchandise.
There will also be a photo booth where guests can capture their best party memories.
The Oktoberfest began as a celebration of Crown Prince Ludwig's marriage on Oct 12, 1810 in Munich. At that time, the celebrations were held in the open field.
Even as G Hotel prepares to celebrate, Mother Earth is not forgotten. The hotel has eliminated the use of plastic straws at all its outlets that serve beverages.
Check out the Tree Bar on your next pub-hopping trip.