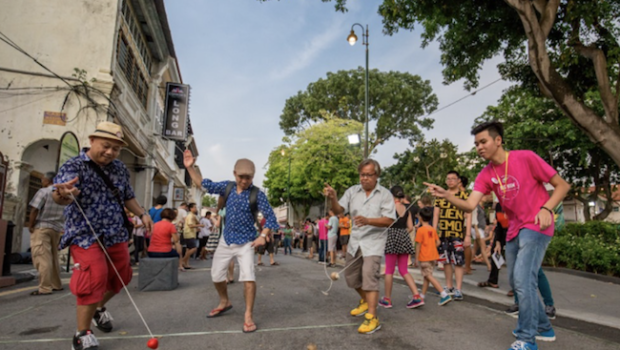 Marking a decade as World UNESCO Heritage Site
From its refurbished Chinese manors to its artsy cafes, swanky shop terraces to boutique hotels, George Town has skilfully blended East and West, tradition with modernity, making it one of the most culturally diverse cities in Asia.
Yet, it remains unashamedly Malaysian – a melting pot of Malay, Chinese and Indian cultures that have endured the test of time.
As the city marks its 10th birthday as a UNESCO World Heritage Site in July, George Town looks set to retain its old charms and quirky architecture even as it thrives as a 21st century metropolis.
There is a lot going for George Town. While Penang is a state with a Chinese-majority population, it has effortlessly blended the cultures and traditions of the major races in its heritage while retaining much of the characteristics of its past as a British Straits Settlement.
These are, undoubtedly, the main draw for visitors.
Talk to the locals and they will be happy to share their version of stories of old Penang. They are proud to showcase their cultural practices, community traditions and oral history, and they are likely to spice it all up with a great variety of local delicacies.
The local culture and traditions are written in its food, art and craft, its many festivals, even on the walls of its many century-old shophouses.
All these and more will be showcased in the George Town Heritage Celebrations (GTHC) over two days on 7th and 8th July. Being its 10th anniversary, this year's celebrations also hold special significance.
The theme for this year's event is POTENTIAL – Of the Past, In the Present, For the Future. The theme represents a discovery of the city's present and future potential while commemorating its past achievements.
George Town was a trading post where seamen and traders connected. Today, it thrives as a cultural and heritage site. Only time will tell what the future holds.
The city has a lot of potential yet to be discovered, according to Dr Ang Ming Chee, director of George Town World Heritage Incorporated.
"We have seen the past, and we are now experiencing the present. Traditions, culture, heritage, community and sustainable development – these are all factors that have shaped the present. We see a lot of potential for higher achievements in the future," he says.
A lot of exciting programmes have been lined up to ensure that visitors get an unforgettable experience in the celebrations.
The festivities will revolve around four main areas – auspicious things, handicraft, leisure and daily delights. There will be opportunities for cultural exchanges between the locals and foreign visitors.
The 23 major and minor communities from all over Penang are all set to share their tradition and culture, and have a lot of fun at the same time, with anyone who is curious enough to hop in and join in the celebrations.