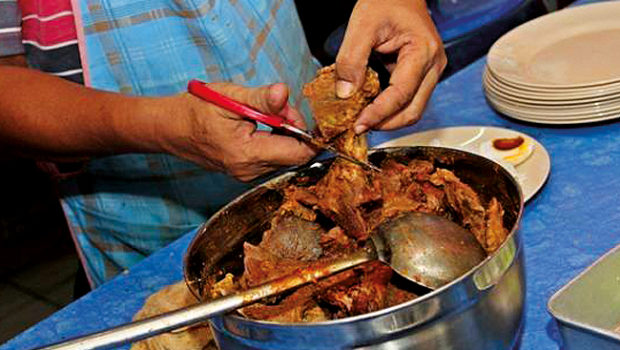 Melaka's most wanted : best breakfast, lunch and dinner
Banda Hilir gained recognition as one of UNESCO's World Heritage Cities owing to its long history that can be traced back to the Portuguese invasion in the 16th century. Back then, Melaka served as a major seaport for merchants plying through the Straits of Malacca, and is chracterised by its many different influences and cultural diversity.
Apart from the various multicultural living artifacts and monuments, you can definitely draw parallels to its counterpart, Penang, especially if you have a hearty appetite. Certainly, this Heritage City offers an array of food that pleases the palate.
Let us start with the breakfast menu, shall we?
BREAKFAST
Eateries are few to come by within the Heritage Core Zone, but if you roam slightly outside of the Heritage Buffer Zone, you might just find yourself in a food haven.
One of Melaka's famous local breakfast is the Mee Bodoh, literally translated to mean Dumb Noodle, and is located in Tengkera. As the name suggests, Mee Bodoh is a simple dish with just a few ingredients – fried noodles with a few slices of cucumber and bean sprouts. The sambal or chili paste provides flavor to the noodles. Definitely worth the drive!
Next on the list is Roti Canai Kayu Arang. This local favourite stall is just stationed on the pavement of the road leading to Melaka Sentral. Marked by a long queue of cars parked along the sides, it is impossible to miss this stall. As the cook uses charcoal fire to toast the disc-shaped flour mixture, the outcome is a slightly burnt and crisp roti that goes very well with local black coffee. The stall also sells a variety of traditional kuih such as ondeh-ondeh and karipap. Along the same stretch of stalls, there is also satay, homemade fried chicken and calamari rings.
Nasi Gunting, a traditional Melaka spread is for those who do not feel queasy consuming cow innards such as intestines, liver, lungs and stomach. When serving these dishes, the servers will use the gunting or scissors to cut up the cooked meat into serving size.
The Warisan Nasi Gunting stall started way back in the late 40s. Now, the stall is managed by two brothers who continue their father's legacy at Pasar Besar Melaka Sentral. If you want to get a taste of this unique dish, do come early since the dishes are qu
LUNCH
For lunch, there is a variety of food that you can choose from around the city. There is the traditional Malay, Nyonya and Peranakan, and even Portuguese cuisines. You can get all of these exquisite delicacies within walking distance around Banda Hilir.
The first thing to try is obviously Melaka's very own signature dish, the Asam Pedas. There is a good restaurant right at the corner of the shop lot in front of Taming Sari Tower. The place is Asam Pedas Selera Kampung, a famous lunch spot for the Malaccans and also for the tourists – some say it is the best in town. Recommended dishes here are the Asam Pedas Ikan Jenahak (Snapper), Ketam Masak Lemak (Crab), Udang Masak Lemak (Lobster), and Daging Salai (Beef0. The Asam Pedas here is thick in texture and has a rich flavour. The owner, Pak Din, is a really nice man who has a nose for business. Being in this trade for 26 years, his asam pedas has become well-known. Pak Din plans to make his asam pedas paste wholesale and deliver them nationwide.
If you are a fan of Nyonya and Peranakan food, especially the curry, my suggestion is to try the Kapitan Curry which is dry chicken curry with a lot of spices. Since the Nyonya cuisine is known for its fusion taste, you can savour the flavours of Chinese, Malay, and Indian combined. The use of herbs and spices makes Nyonya and Peranakan food simply irresistible. You can find a number of Nyonya restaurants around the tower such as Bayonya Restaurant, Sri Nyonya Restaurant, and The Peranakan Delight.
Lunch in Melaka should include the famous Portuguese Debel Curry, also known as the Devil Curry. The 'Devil Curry' found its name through the mispronunciation of the word 'Debel'. Besides, who can resist the devilishly spicy curry loaded with a generous amount of chilies? Restoran de Lisbon at the Portuguese Square offers this delicious item on their menu and is best accompanied by side dishes such as otak-otak and vegetables.
DINNER
Dinner can be found slightly off the outskirts of Banda Hilir.
Ikan Bakar or grilled fish is one of the popular choices. There are a lot of Ikan Bakar places but among the best is the Medan Ikan Bakar at Crystal Bay. The place is approximately 17 minutes from the city. If you are using the Maps application, just search for Jalan Alai Perdana 8 and it will direct you to the place. There are many stalls that you can choose from and all of them serve similarly a variety of fresh seafood. Locals usually go for Siakap Tiga Rasa (Barramundi), Sotong Goreng Tepung (Calamari Rings) and Kailan Ikan Masin (Kale with salted fish). The locals have a unique way of eating their Ikan Bakar. Instead of plain rice, they eat it with Nasi Lemak and sambal kicap or chilli paste in soy sauce.
You might also be tempted to try the Mee Racun or Poison Noodle. You can find this dish at Qasreena Café, just slightly off the main road to Ayer Keroh. Just like the Portuguese Debel Curry, Mee Racun is blazingly hot. The soup is thick and black, with lots of spices in it, making it a challenge even to those who love spicy Malay food.
It is incomplete to visit Melaka without tasting the Satay Celup. For this dish, you do not have to travel far from the city. Among all the stalls, Satay Celup Capitol at Lorong Bukit Cina is reputed to be the best. It has a vast array of satays you can choose from to go along with the delicious peanut gravy. A word of caution though: there are non-halal items in the menu. If you are still doubtful, you can go to Celop-Celop located at Taman Lagenda.
As much as there is to the variety of cuisines you can get around the Historic City, there may other unique and delicious food scattered around the state. Being flanked by Negeri Sembilan and Johor, the style of the dishes differ according to region. For instance, Alor Gajah which is closer to Negeri Sembilan adopts the latter's style of making Gulai Masak Lemak, while places like Merlimau that is closer to Johor tend to have a stroke of 'Muar style' noodles. To food hunters, Melaka can be an exciting place to explore their lust for exotic local food.