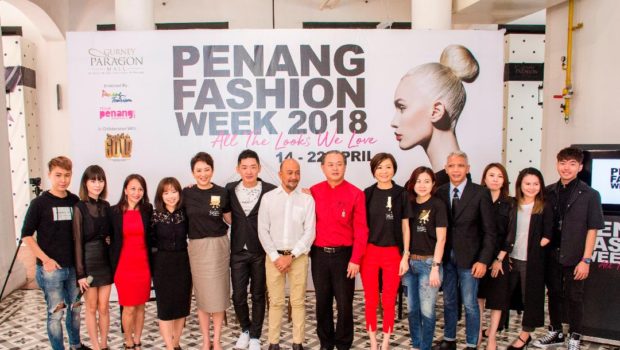 Penang Fashion Week in April
Penang Fashion Week 2018 returns at Gurney Paragon Mall from April 14 to 22 with a gala presence of 17 designers and 26 runway shows throughout the event.
The showcase aims to bring together people from all walks of life to get involved and at the same time, it provides an excellent platform for Penang's outstanding homegrown designers and college students to show off their creativity.
Considered a melting pot of creativity and innovation, Penang's fashion scene is becoming one of the most exciting fashion events in the region.
In her welcoming address, Hunza Group executive director Khor Tza Ming said that this fourth edition of the prestigious show promises to feature top-class local and international designers.
"I would like to thank especially the Penang Government, and the designers and our participating tenants, more than 30 partners and  all our media friends for your support," she added.
A series of fashion shows and a fashion design competition will be staged throughout the nine-day event. Participants include returning designers like Keith Kee, Richard Rivalee, Ranndy Goh and Michael Ooi, Samantha Chua, while making the debut are Dennis Lee, Joo Lee, Chris Yee, Jasmine Phoon, Steven Chuah, Cynthia Ong and Raydian Chew.
Joining the shows are Gurney Paragon Mall's fashion tenants such as Chow Tai Fook, Debenhams, ECCO, Lancaster, Focus Point, Cosas United, Hush Puppies, Akemi Uchi, National Geographic & Travis Hegel as well as Save My Bag.
This year will see UCSI University hosting their fashion design competition 'Runway Designer Search' for all the diploma holders from all over the country. The finals will be held on 17 April 2018(Tuesday) in the mall's atrium and will feature 10 finalists.
The top designer will walk away with the university's degree scholarship. Apart from that, Equator College and ESMOD KL – The One Academy will take up a runway show each featuring all their students' creative wearables.
The opening gala falls on April 14 evening as the runways come alive with a diverse cast of fashion talents, including Jonathan Liang (Penang born and based in Paris), KevYiu (Hong Kong), Illiza Ho (Taiwan), Carven Ong (Malaysia), and Bon Zainal (Malaysia) International celebrity, NingBaizura and Hero Tai (Johor born and based in Taiwan) will also grace the night with their special appearances.
The event will be launched with an opening show presented by Penang Fashion Week partner, luxury and lifestyle retail group Valiram, and will feature a line-up of spring/summer looks curated from seven brands: Michael Kors, Kate Spade New York, La Martina, Tory Burch, Tumi, Pedro and Charles & Keith.
For the first time ever, Nickelodeon's SpongeBob Gold will make its debut in Malaysia, at the opening gala. This is an international campaign that celebrates everything that makes SpongeBob one of the most iconic animated characters in the world, and also marks the largest showing of fashion designers in the world putting their spin on SpongeBob Gold in fashion.
To-date, SpongeBob Gold fashion activations have been introduced in the United Kingdom (London), Brazil, Mexico, Colombia, Indonesia, Singapore, Spain (Madrid) and soon, in Malaysia.
Being a responsible corporate citizen and as a part of the mall's on-going commitment to the community, the mall has worked together with 12 designers to design brand new attire for each child in a bid to bring cheer to the lives of children from the House of Hope. On top of that, one of the tenants in Gurney Paragon Mall, Hush Puppies, will sponsor a total of 600 pairs of school shoes for the underprivileged children.
For the public, there are many ways to get engaged in the month of April. To reward shoppers, there will be a spending campaign throughout the month in Gurney Paragon Mall. Shoppers who spend a minimum of RM300 in a maximum of two combined receipts are eligible to redeem shopping vouchers worth RM50. Gurney Paragon Card and UnionPay cardholders can redeem an additional free gift – exclusive SpongeBob Gold merchandise.
Also worth mentioning is the lucky draw contest where the contestants could walk away with prizes worth more than RM20,000. The grand prize consists of a pair of return ticket by Qatar Airways to Europe, a 3D2N stay at DoubleTree Resort by Hilton Penang and shopping voucher worth RM12,000.
In order to join the contest, one has to spend a minimum of RM300 in a maximum of two receipts in April. For Gurney Paragon and UnionPay cardholders, a minimum of RM200 spending is sufficient to enter the lucky draw contest.