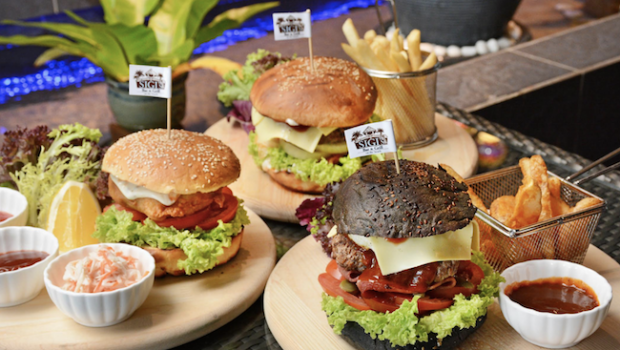 The new Sigi's Bar & Grill – a great place to dine
If you like dining in rustic surroundings by the sea, head for the Sigi's Bar & Grill at Golden Sands Resort. Patrons at the beachfront restaurant in Batu Ferringhi, Penang, can choose to dine in the generous patio, a spacious air-conditioned dining area or the signature upper deck.
Wherever you sit, you will be sure to get a panoramic view of the sea and horizon beyond. On a clear day, you will even catch sight of a spectacular sunset – a view unmatched at other establishments on the Batu Ferringhi beach.
"Soak up the idyllic atmosphere of a tropical paradise where swaying palm trees and a lot of sunshine keep you company by day, and twinkling stars fill up the skies at night," says Golden Sands resident manager Christoph Duker.
But the heavenly surrounding is just the appetizer. At this family-oriented restaurant popular with both tourists and locals, the least one can expect is a big spread at dinner time.
"For the main course, savour the best of Tex-Mex cuisine. From hearty à la carte platters to sizzling barbeques, there is something for everyone," says Duker. "Otherwise, go for our signature pizzas, seafood paella, deep-fried AusLamb shank with Asian spices, or mushroom soup with rye bread."
There is also a considerable selection for vegetarians as well as basic quick-to-serve yet fun meals for children. "We give special consideration to the health-conscious as well," Duker points out. "For them, we have gourmet salads as well as all-day light snacks."
Diners can choose between contemporary Western cuisines, along with grilled specialities or take the local delights. Barbeque gourmands will relish a demonstration of the chef's skills on the grill or even opt to try their hands at preparing meals from a selection of fresh meats and seafood.
On the menu are a wide selection of prime steaks, seafood, pizzas, sandwiches, pasta, local delights and even children's treats and they are available at any time of the day. Diners – young and old – can then burn off the calories in a variety of sports and children's activities at the resort.
"This is the place where you can dine with a group of friends or family, or treat your special someone to a romantic dinner in our special cabanas," Duker elaborates. "You can even host a party on the alfresco upper deck or a cosy private room. The bar, which faces the pool, offers an extensive variety of alcoholic and non-alcoholic beverages – from seasonal fruit juices, mocktails and yoghurt drinks to coffee, tea and an international selection of beers and wines."
"You can dine here in style or just go casual. The bottom line is that it's value for money whatever you choose," he adds.
From time to time, Sigi's Bar & Grill holds seasonal and themed promotional efforts to highlight various international cuisines.
The restaurant opens from 11 am to 10 pm daily. For more information or reservation, call +604-8861852 or e-mail [email protected].