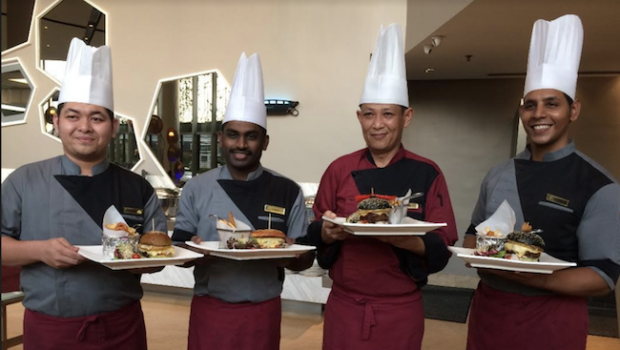 Aficionados of burgers and western cuisine are in for a treat at the Swez Brasserie restaurant in Eastin Hotel. Diners can get the best of both under the "Surf and Turf" and "Burger Bonanza" promos from now till September.
The "Burger Bonanza" offers a choice of homemade gourmet patty of beef, lamb, chicken or grouper served with a selection of charcoal, green tea or garlic buns.
From RM 25 onwards, the huge, yet wholesome, burgers will get you coming back for more. They are available from noon to 10.30pm daily.
Under the "Surf and Turf" promo, diners get a choice of seafood, poultry or red meat. On the menu are a combination of Lamb Chop and Slipper Lobster, Chicken Thigh and Salmon as well as the juicy Sirloin Steak. These and other equally delicious options are priced at only RM35 and above, and are served 6.00 pm – 10.30 pm daily.
An additional RM5 gets you a drink and dessert of the day. Dial 04-612-1111 for details or to make a reservation.