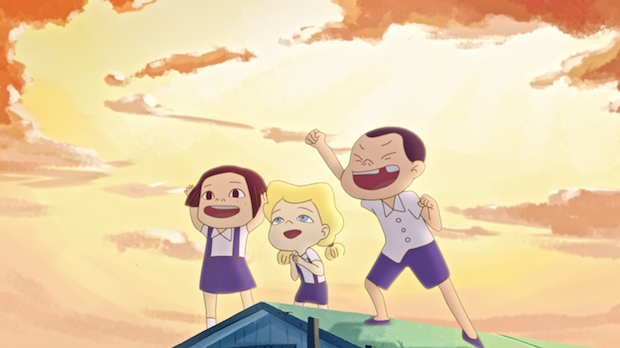 Taiwanese animation in search of happiness On Happiness Road
Through the eyes of the main character Xiao Chi, animated film On Happiness Road relives the life of award-winning director Sung Hsin-Yin's struggle to find happiness in Taiwan's turbulent recent past.
Born on 5 April 1975, the same day Chiang Kai-shek died, Lin Shu-chi (Xiao Chi) grew up and spent most parts of her young life in the story depicted in Happiness Road. Set against the transition of Taiwan from martial-law dictatorship to full-fledged democracy, it is a bittersweet tale with major political events interwoven into her life.
When Xiao Chi and her family moved on,  she asked her parent what happiness means, only to be rebuffed as perhaps there is no simple definition to happiness.
Growing up, Xiao Chi is taught to speak Mandarin at school in place of Taiwanese Hokkien and finds her aboriginal grandmother as barbaric. In university, she joins social movements despite the strong objection of her parents. Following the footsteps of her older cousin, she later moves to the United States to pursue the American dream, only to realise happiness remains unattainable.
The film records painful parts of Taiwan's past. For instance, Xiao Chi's classmates Betty, a mixed-race girl with blonde hair and blue eyes. Though she is constantly waiting to be reunited with her American father, she is, in fact, one of many abandoned children born to local Taiwanese women and American troops. Another classmate is killed in the 1921 earthquake, one of the most deadly catastrophes to have struck the island.
Director Sung wanted to be a storyteller and went to Japan to study film theory at Kyoto University and later at a film school in the United States.
The film won the grand prize at the 5th Tokyo Anime Award Festival in March, as well as the AniMovie Award at the 25th Stuttgart Festival of Animated Film in Germany.
Sung may have drawn inspiration from her own childhood, but her film speaks to the collective memory of Taiwanese society, documenting its changes and questioning its values.
"It is essentially a cruel and dark coming-of-age story, so presenting it through animation makes it more humorous and enchanting," says Sung of her directorial debut.
ON HAPPINESS ROAD 幸福路上 is scheduled to open on 5th July 2018 and will be screening exclusively in 5 Golden Screen Cinema locations,  GSC Mid Valley, GSC Pavilion KL, GSC 1 Utama, GSC Gurney Plaza, Penang & GSC Paradigm Johor. The movie trailer can be viewed on https://www.youtube.com/watch?v=pa6QPWZ8HfM