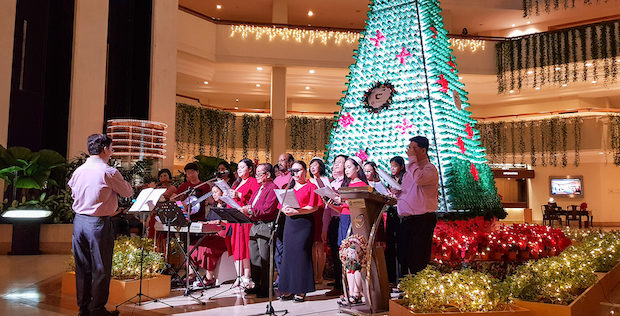 The season to rejoice and celebrate is here again
Christmas is just around the corner, and the magic is already in the air. All over town, Christmas trees are lighting up as music fills the air.
The Queensbay Mall in Bayan Lepas, Penang, recently unveiled its "Twinkle Chamber" infinity mirrors in its central atrium as part of its "Enchanted Realm" Christmas celebrations. The chirping of birds greeted shoppers and guests as they walked among colourful replicas of mushrooms and flowers.
The setting – a combination of Alice in Wonderland, Thumbelina, Tinkerbell and Smurfs all rolled into one – was indeed magical.
About 500 guests gathered at the lobby of the iconic Eastern & Oriental Hotel recently to witness the annual Christmas Tree Lighting Ceremony – a tradition that began 15 years ago. This year, a 6m tall tree decked up in shiny and colourful baubles, ornaments, tinsel and fairy lights take centre-stage in the Heritage Wing.
Hotel staff enhanced the Christmas mood with classic Christmas carols after a welcoming speech by E&O Bhd group hospitality and lifestyle director Michael Saxon.
In line with the festive occasion, guests were treated to a lot of finger food and a free flow of beer and wine.
At the Gurney Plaza, a 35ft Christmas tree surrounded by lavenders and decorated with glowing light bulbs dominate the Christmas Secret Garden in the main atrium.
Inside the Secret Garden, a unique 360-degree spherical video projection takes guests into many different and mysterious dimensions.
Pulau Tikus state assemblyman Chris Lee and deputy director of Tourism Malaysia Northern Region Siti Hajar Mohd Yunus joined CapitaLand Malaysia REIT Management CEO Low Peck Chen, Queensbay Mall and Gurney Plaza general manager Selina Ng and mall manager Peter Chan to launch the Christmas celebrations.
Apart from offering a great shopping experience, Gurney Plaza also promises to tingle all the senses. "See, feel, smell and touch with us this Christmas," Chan said.
Equatorial Penang goes green this year with its "recycled" Christmas decorations. The 23ft tall Christmas tree and all decorations are made of recycled bottles and paper cups. More than 3,000 used plastic bottles have been used to make the Christmas tree while 500 paper cups were used to make the snowman.
General manager Andreas Knüssi led a group of children from the Penang Cerebral Palsy (Spastic) Children's Association as well as carollers from Pantai Hospital Associations to welcome guests at the ceremony.
Across the channel, the Sunway Carnival Mall in Seberang Jaya is going with the "Christmas Fun Factory Season of Joy" theme this year. The malls upper ground concourse has been transformed into a Christmas stocking factory to deliver a fun-filled and memorable holiday for all.
At the Impiana Hotel in Ipoh, about 100 guests gathered at the lobby to witness the annual Christmas Tree Lighting Ceremony recently.
The hotel also launched its "Stars for Hope" CSR programme in collaboration with Projek 57, a social enterprise inspired by the vision of many different kinds of people, including the Orang Asli, embracing each other as well as living and working well together.
For a minimum donation of RM10, a guest gets to write his wish and then hang it on the tree. All the donation will be channelled to Projek 57 to fund educational efforts for Orang Asli children, said general manager Gerard Sta Maria.
Children were also the main beneficiaries at the M Summit Group Christmas celebrations. To mark the occasion, the company presented back-to-school items to school children.
M Summit group managing director Datuk Albert Moh and its executive suites general manager Joachim Chai recently unveiled its 6m tall Christmas tree in the company of guests and children from nearby schools.