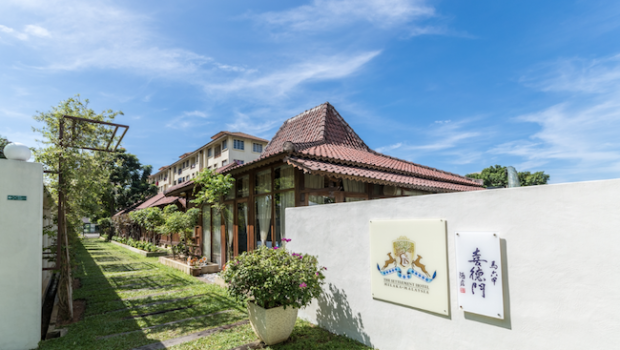 The Settlement Hotel: Hidden jewel of Melaka
Words by Francis Yip
Photos courtesy of Settlement Hotel Melaka
If Melaka is a window to Malaysia, then The Settlement Hotel offers you a peek at its heritage. This luxury boutique hotel captures Melaka's rich history through its intricate architecture, classic furniture, culturally rich décor and many other features.
The fact that it is located on Jalan Ujong Pasir – also known as the Food Trail of Melaka – is a bonus.
It therefore comes as no surprise that The Settlement Hotel has recently won yet another accolade – The Best Services (4-Star City) Award at the Malaysia Tourism Awards 2016/2017.
"The fact that we have won this award is a reflection of the hard work and effort, and unwavering commitment to delivering only the best service to our guests," says Pauline Chua, general manager of the hotel.
An evolution of cultures and hospitality
Several items on display within its wall invariably evoke a sense of curiosity in the guest as soon as he steps into the hotel. For instance, the guest will certainly be awe-struck by the sight of the 350-year-old highly-prized Sultan Bed on the front porch.
Century-old tiles from a mosque in Palembang, Sumatra now adorn the floor. For a taste of our colonial past, step into the Cool Room or Dining Room for English tea.
"Our guests refer to our hotel as 'The Hidden Jewel' simply because they never expect to see and discover so many things," says Chua.
Unique old settlement
The Settlement Hotel boasts 49 elegantly designed deluxe rooms, suites and villas built over 35,000 square feet of garden and lawn. One of the five traditional Malay villas has been converted into a lavish traditional spa and pool to pamper the mind, body and soul.
Other facilities include a ballroom big enough for 100 guests, meeting rooms, a multi-purpose room and a Borneo-style Rooftop Garden. The Dining Room serves a fusion of Straits Chinese (Peranakan), Chinese, Indian, Portuguese and Western cuisines.
Another unique feature is The Long Table Bar which easily sits 28 persons comfortably for a round of drinks. The 27-foot long table, carved from a single tree trunk, is reputably the longest such piece of furniture in Malaysia.
"This reminds us of the traditional Chinese dinner table where everyone in the family sits and eats together. We call it the Longevity Table," Chua explains.
Gateway to Melaka city
The Settlement Hotel is located on the fringe of the Portuguese Settlement and a mere five-minute drive to Melaka city, which is a UNESCO World Heritage City. A shuttle service is available for guests who wish to take in the historical sites, such as A'Famosa and Stadthuys, or other destinations such as Jonker Walk – a favourite stop for souvenir hunters.
With the latest award in hand, what's next for the hotel? "We want to go from four-star to five-star status," Chua says, "and from being 'A Hidden Jewel' to 'A Renowned Jewel'."
Other accolades: TripAdvisor Certificate of Excellence 2017 and Booking.com Guest Review Award 2017 for an 8.5 out of 10 rating.
​