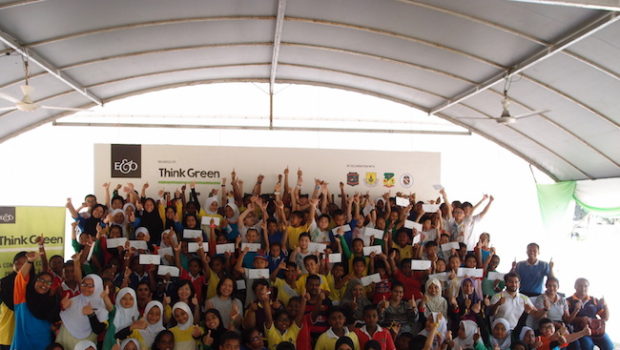 Treasure hunt for children
Fun day for children at Straits Green Public Park
It was a day of fun activities for some 145 schoool children as they rummaged around the Straits Green public park looking for green treasures during the third series of the Think Green Treasure Hunt in Tanjong Tokong here.
The cheer and laughter of the children rang through the park as they tried to outdo each other at the station games.
The event was organised by Eastern & Oriental Berhad (E&O) with Consumers' Association of Penang (CAP) as its facilitator, the three-hour outdoor activity featured play stations at the Straits Green compost bay, food garden and children's dry play equipment area.
The children aged between 10 and 12, were put to test on recycling and composting know-how imparted by Think Green's long-term partner CAP through its year-round activities.
Among the hurdles were tricky quizzes on herbs, physical challenges and games designed to the theme of green elements to gauge the students' knowledge on compost making, garden design and care, building raised beds, growing food, herb appreciation, urban gardening, natural farming, and making DIY planters.
E&O government liaison and planning senior general manager Datuk Zawawi Yusop said the participants were pupils of SK Tanjung Tokong, SJK (T) Azad, SJK (C) Hun Bin and SK Convent Pulau Tikus.
He said the Group wanted to promote a young generation of eco-warriors through such Think Green programme.
"From our observation, it is heartening that the activity has drawn active participation from schools year-in-year-out and we hope to continue this programme in the spirit of promoting sustainable communities," he said.
The winning team received RM700 Popular Bookstore cash vouchers while the second and third teams walked away with RM500 and RM400 cash vouchers respectively.
The fourth and fifth places bagged cash vouchers worth RM200 each. All participants were also given a certificate of participation in recognition of their effort and teamwork.