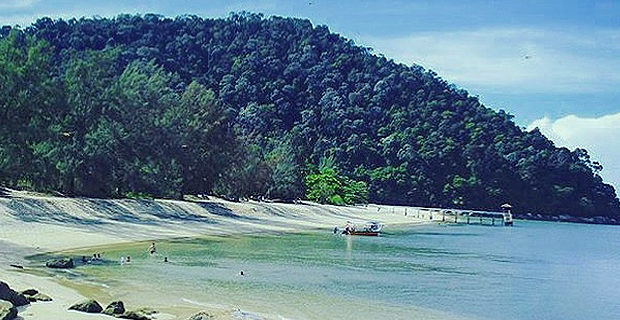 A day out at Pantai Kerachut
WORDS & PHOTOS BY THARANIE RAJENDRAN
Among the growing concrete jungle of our ever-modern Penang Island, lies the world's smallest national park forest reserve. As the saying goes great thing comes in small packages.
The Penang National Park (signboard reads 'Taman Negara Pulau Pinang') has a great deal to offer every nature enthusiast out there. Last week, I made a trip to Pantai Kerachut to see turtles. In order to reach my destination, I had to hike 3.5 km through Penang's National Park.
"Bliss is wet sand between your toes and the sunburn on your nose." That day, I had both and it was perfect!
At Turtle Conservation Centre, I was greeted by Michelangelo and Raphael. They were one-day-old Olive Ridley turtles and were rescued by the rangers for safe hatching. It felt really amazing to see cute little 2-3 inch turtles swim ming around the shallow blue tub. Nothing beats a real live experience – not YouTube videos nor the television.
I learnt that the baby turtles will be released from captivity soon. Unfortunately, visitors are not allowed to touch the turtles. There were also two larger 5-year-old green turtles that are kept there for research purposes. On my journey back, I chartered a boat together with several other visitors. We split our costs and paid RM20 each. It was money well spent as a solo journey would have costed RM100.
On board, I saw majestic white-bellied sea eagles scouring the area to catch fish. Along the way, there are rocks with natural formation shaped like a gigantic crocodile, turtle and hamster. Nature's beauty speaks for itself. The boat ride lasted about 15 minutes. It was a perfect way to end this beautiful trip to Pantai Kerachut.
I'd strongly recommend Pantai Kerachut as a quick getaway to fall in love with the greens and blues of nature all over again. Of course, dress comfortable and be prepared with sunscreen lotion, insect repellent and some food and water.
FUN FACTS!
The Olive Ridley Turtles the smallest turtle in the world (average size 15-65 cm long).
Green turtle got its name from the green coloured fat that it contain in its body.
Green Turtles are featured in Finding Nemo (2003) and Finding Dory (2016) as Crush
HOW TO GET THERE:
Drive to Penang National Park, Teluk Bahang. There is a secured parking lot taken care by the Fishermen Society of Teluk Bahang which will cost RM3
Take a Rapid Bus to Teluk Bahang (Bus Number 101, 102 is recommended from KOMTAR) and it will cost you RM4