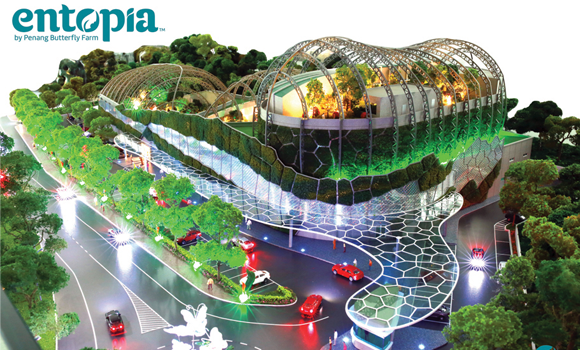 Entopia – Voices of Nature
By Carolyn Khor
A wormy caterpillar morphs into a beautiful butterfly. The same transformation happened to Penang Butterfly Farm that is now an entirely new entity called Entopia after a year of re-development. Opening in May, Entopia is the World of Invertebrates and a Nature Learning Destination, no more just a typical tourist attraction.
Entopia by Penang Butterfly Farm promises a plethora of experience that is distinguishably unique with attractions such as the tree of life, the Home Tree. Here, visitors get to release our farm-bred butterflies into the garden, to give 'life a second chance' in a fairyland-like sanctuary designed to extend the butterflies' lifespan; abundant in food and free from their common wild predators. In a hallowed way to all Entopians, the Home Tree is a symbol of the great harmony found in Mother Nature.
Step into the Cocoon and feel what it is like to live as a pupa. The Cocoon, which is an indoor discovery centre, features two floors of learning exhibition and indoor activities. The Cocoon is designed to allow visitors a self-exploration of invertebrates through various interactive edu-stations. One key highlight of the discovery centre, is the Luminous; Entopia's and Malaysia's very first indoor firefly sanctuary, where visitors can observe the intricacies of firefly breeding, exposing the amazing stages of the fireflies' life-cycle. Besides self-exploration by the visitors, they will also be guided by our nature specialists to participate in fun hands-on learning activities. The entire Cocoon itself is also the state-of-the-art facility whereby the visitor experience will be accompanied by technology guided interpretation.
Witness the wonders of nature unfold before your eyes when you stroll through the outdoor garden called Natureland and the indoor Cocoon before leaving the sanctuary with a new understanding of the fragile world of invertebrates.
What inspired owner Joseph Goh to "metamorphose" the entire Penang Butterfly Farm into Entopia was the awe and amazement registered on visitors' faces as they get acquainted with these winged creatures.
Entopia was visualized and conceptualised as a consolidation between 'entomology' and 'utopia'. Visitors can expect nothing less than a fascinating and grandiose experience of nature within the walls of this latest attraction in Teluk Bahang.
"I realised the need for a major transformation as we have outgrown the Penang Butterfly Farm. What my father, David, started as a hobby can now be presented to the world as an interactive learning centre," said the young and enterprising CEO of Entopia who took over his father's business a decade ago.
Referring to Entopia's tagline 'Voices of nature', Joseph fondly recollect memories of his schooldays where he would help his father and team plant vegetation for the breeding of butterflies.
"These invertebrates cannot speak. We want to be able to share with everyone what we have come to love and experience through all our years of working with these creatures. My father has created the opportunity for me to grow up learning and living with butterflies and that has left a strong impression on my outlook in life.
"Eighty percent of the living creatures in the world are invertebrates. We need to understand them in order to protect them. Butterflies have a short lifespan ranging between two and four weeks. The female butterflies only lay eggs when the conditions are right.
"We culture up to 120 species of butterflies at our numerous breeding stations and at any given moment and maintain a population of fifteen thousand butterflies inside Entopia. There are over a thousand known species in Malaysia, and in the world, a new species is discovered about every five years."
Passion in design
An architect by profession, Joseph holds design close to his heart and is heavily influenced by his travels through Europe. He encapsulates the charm of nature with modern amenities by weaving around the original landscape, maximising the usage of natural sunlight and airflow, and by harvesting rainwater for irrigation.
"To reduce energy consumption, I designed the façade as a hydroponic green-wall which has a distance of about 180 metres, and is 17 metres at its tallest point. Water collected during rainy days are contained in a Storm Water Harvesting Tank that is found underground. Our garden ponds which are filled with fishes, are filtered using separate but similar green-walls which in turn provide organic nutrients to the plants.
"We also make our own compost. It is a whole living eco-system here with its own equilibrium."
Driven by passion, Joseph believes that Entopia is a suitable platform for people who share the same beliefs and vision. His easy-going nature has earned him an affable reputation. Being a peoples' person, Joseph maintained his 120-strong staff during the year-long closure to upgrade the facility.
"My team is very important to me, just like family, and they are my responsibility. They have to do what they like, then only they will be able to do it well. For instance, we now have a snake exhibit only because we have an experienced snake handler on our team. Each of them will do what they do best.
"Enthusiasts may research and develop content for the exhibition area. Those with interest such as entomology, biology or botany will certainly be drawn to our work. We are currently working with Taiwanese researchers to breed fireflies.
Being well-known in the industry, Joseph is accredited for butterfly sanctuary projects around the world, among which, a fully government-funded butterfly park and insect museum in Konya in Turkey, and a butterfly garden at Terminal 3 of the Changi Airport, Singapore.
"We are not Disney but I would like for us to be known as a centre for learning. That would set a new benchmark. I also hope that this will create a new direction by incorporating new concepts into this industry.
Apart from its green design, Entopia is also disabled-friendly and has a total of 170 parking bays within its perimetres.
Amazing insects
It takes roughly four hours to tour the sanctuary. Entopia is the only garden in the world that houses all three 'flies' – the butterflies, the dragonflies and damselflies, and fireflies. Apart from the these 'flies', there are moths, bugs, beetles, scorpions, snakes and other invertebrates.
"The butterflies, dragonflies and damselflies, and fireflies are housed separately. This is because the butterflies are herbivorous while the others are carnivorous.
"Have you ever seen fireflies feed?" he asked. "Come learn at Entopia."
"You can witness the whole life cycle. The fireflies light up as a result of chemical reaction produced to attract mates. The strangest thing about fireflies though, is that unlike butterflies, its habitat in the swamps is not because of the type of vegetation, and in this case, the mangroves.
"Come learn how butterflies breathe without lungs and how moths eat without mouths."
As a researcher, breeder and exhibitor, Joseph Goh certainly has the vision to take Penang Butterfly Farm to the next level in a big, big, way. Capture the beauty of nature, crafted and narrated as a captivating story and recreated to feed the imagination at Entopia, the butterfly utopia.


Previous Article