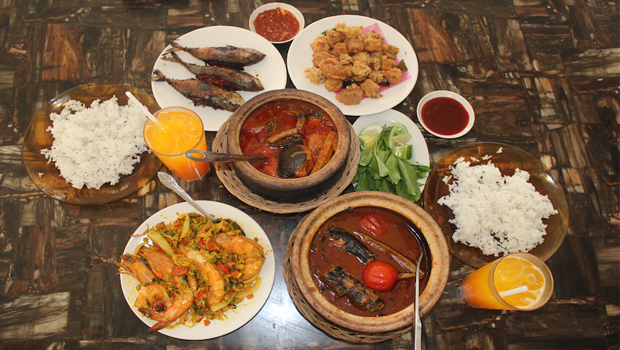 Words by Wana Yahaya
Photos by Yohh Nadirah
Kedah is the perfect choice if you were looking to enrich your gastronomic experience. There are countless exquisite delicacies in places waiting to be discovered in this land, otherwise known as the "Rice Bowl" of Malaysia. From a list of total 26 places of Kedah's Food Trail, where2 shortlisted 6 that will surely whet your appetite, as it did ours.
RESTORAN ITIK BERSILA
Ducks are a speciality especially at Restoran Itik Nila Bersila. This restaurant serves only duck and as indicated in its name, you can indulge in your food sitting cross-legged.
The Itik Serati or Itik Nila, as the locals call it is the only variety of duck available. The dishes are served either with thick spicy gravy or deep fried to extra crispy and served with a generous amount of fried shallots. Both are to die for!
Location : Jalan Yan, Titi Serong, Yan, Kedah, Malaysia. For reservation and information, please contact Yati at 012-597 8469.
---
LADANG NIRA NIPAH CHE KAQ
Quenching your thirst never gets better with servings of Nira Nipah. Nira Nipah is the sap obtained from the Nipah Palm, a palm tree with creeping roots found close to paddy fields especially in Kedah. Yes, it was not all paddy and bowls of rice. Kedah offers a unique selection of natural drink as well. This milkish sap is naturally sweet and has been enjoyed by villagers, mainly Malays since the beginning of sap-time. It is amazingly popular among peasants after a hot long tiring day out in the paddy field.
There is a lot of work that goes into obtaining a jar full of Nira Nipah. The sap is collected in a plastic bag, one drop at a time. The Farm, managed by Rohana, is nestled within a palm plantation in Yan. Enjoy this refreshing drink on one of the stone chairs below these palm trees to enjoy the breeze and its natural surroundings.
Address : Jalan Kuala Sedaka, Yan, Kedah, Malaysia. For more information please contact Rohana at 012-435 5104.
---
MEE UDANG PULAU SAYAK
An enchanting seaview and as the backdrop and sea breeze in your hair is what you will get when you dine at Usop's stall. He uses only the best and freshest prawns ti make the gravy and large prawns as topping. The best part yet, is the sunset view.
So come and try Usop's Mee Udang and unwind together with your loved ones.
Address : K639, Kompleks Bilik Sejuk Fama, Kampung Teluk Chengai, Kedah, Malaysia. For reservation and information please contact Usop at 019-267 1650.
---
SATAY SEMELING
The couple running the whole satay business is two with immense aplomb and grace. It has been 28 years since to make satay.
Satay Semeling is certainly one of the cheapest satay sold to this date, starting at only 40 cents per stick, you can certainly enjoy a blurp-full of satay servings. The nut gravy served along with these fresh sticks of satay is thick and creamy making the whole experience an unforgettable one.
Address : Pekan Semeling, Kedah, Malaysia. For information, please contact Aisyah at 012-529 7027.
---
NAIM GULAI SEMBILANG
If you are a fan of spicy thick fish gravy then this is a must visit. The main fish served is Sembilang, a type of local fresh water fish.
A wide variety of seafood can also be found here and each is prepared fresh and is of finger licking good. They also produce their own paste for every recipe served here. You can also buy these and made your own gulai at home in one easy step.
Address : Kampung Sungai Pial, Tanjung Dawai, 08100 Bedong, Kedah, Malaysia. For more information, please contact Zarina at 019-475 6548.
---
Wonderland Seafood Restaurant
Tucked away in a little corner at Kuah, Langkawi is a seafood restaurant known as Wonderland. Ah Toon heads this family business which started 25 years ago when his family relocated to Langkawi from Alor Setar in the early 90's.
Always ready with a smile, Ah Toon greets regular customers by their first names. "We serve quality seafood which is fresh and consistent in taste," said Ah Toon.
Wonderland is well-known for dishes such as the "Butter Prawn", "Steamed Fish with Lime and Garlic", and "Baby Kailan in Oyster Sauce". "Fish must be steamed to just about the right temperature and length if time for the best texture. Timing is everything, but at the end of the day, the customer is always right," concluded Chef Toon.
Address : Persiaran Mutiara 2, Pusat Perdagangan Kelana Mas, 07000 Langkawi, Kedah, Malaysia. Contact person, Ah Toon at 012-4946555