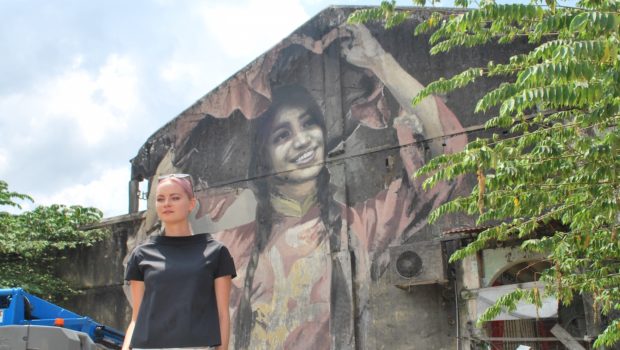 Julia Volchkova – Painting Balik Pulau
By Wana Yahaya
Huge wall murals don the walls of several old buildings in the sleepy town of Balik Pulau, situated in the south district of the Penang Island. As its Malay name implies, Balik Pulau sits directly opposite of George Town, a world renowned UNESCO World Heritage Site at the other part of the island.
Painted by Julia Volchkova, a Russian, these murals have attracted scores of visitors who marvel at the larger-than-life paintings. Locals have dubbed her works as an "Art Attack", and a worthy rival of Lithuanian artist, Ernest Zacharevic's street installations at the heritage enclave of George Town.
Ernest's eight murals have captured international media attention and is among the must-see while touring George Town. Similarly, Julia's work – an inaugural mural of an Indian lady with hands clasped and seated beside an aged tree at Jalan Lumut, together with several other murals in Balik Pulau have become star attractions to locals and tourists alike.
Figure paintings
Born in Nizhnewartowsk, Siberia, Russia, Julia studied art at the University of St. Petersburg. She has been painting actively in Moscow when she received an invitation from a friend who owns a boutique hotel here in Penang.
Since her arrival, Julia had fallen in love with the art scene. She was captivated by the charm of this little island and continued to stay on in Penang. Penang's diverse culture mesmerised her and the rich traditions of the island soon became her inspiration for all her murals.
Julia captures the essence of Balik Pulau through her amazing artwork. Previously devoid of charisma, the pre-war houses now take on a new image through her beautiful and evocative pieces. She draws inspiration from famous works such as Michelangelo's figurative art. Ever since, she has been unstoppable.
All paintings on her murals depict real people. The wall mural of a fishermen mending his fishing net is Yeoh Choon Seng. The second mural of a martial artist in a pose was featured after silat master Johari Omar. The third mural depicting a Hakka lady is that of Pang Yi Chuen.
Julia's wall murals engage viewers with thoughts that provokes a thousand emotions and nostalgia.
An unlikely patron
Julia's works received support from an unlikely patron – Alex Ooi, the CEO of Ideal Property Group. He told Where2 that the company is interested to promote the lifestyle of the local community.
"Julia is able, through her murals to bring out the essence of the traditional lifestyle of the local people. The value of arts and culture is important and it should be the way of life of the people," said Alex.
Balik Pulau is now on the tourist's map not just for its delicious durians but also for visitors who want to see Balik Pulau through Julia's eyes.