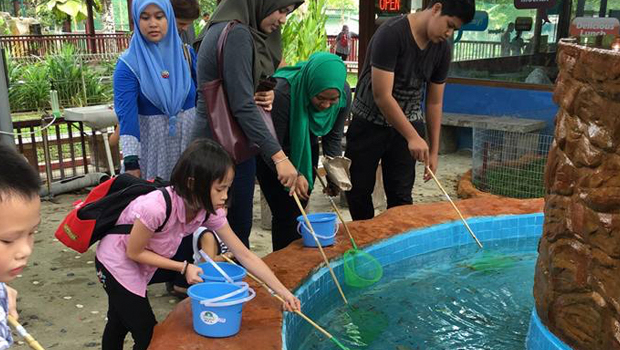 "Longkang" fishing is the in-thing @ Langkawi Wildlife Park
Most of us who grew up in kampungs would definitely identify with muddy experiences like wallowing around with buffalos, playing hide and seek in the rubber estate, and fishing along the parit or trenches. These kind of activities were popular among children, especially during rainy season when fish are aplenty.
Langkawi Wildlife Park has introduced their latest attraction, the longkang fishing, to let their visitors enjoy the exhilarating kampung experience by trying to catch the fish. Longkang refers to these drains or trenches found in rural areas.
The longkang, or more like small pools, is located in the Kid's Zone where you can also find fluffy rabbits roaming around the area. Conforming to the longkang theme, freshwater fish usually found in trenches are used. This type of fish is durable, quite agile and also a challenge to catch even for adults.
As usual, activities at the Langkawi Wildlife Park are not merely for entertainment, but a learning opportunity. By adopting the 'catch and release' concept, it helps to spark the children curiosity in learning. On top of that, children learn the importance of the ecological system for a greater appreciation towards nature.
Meanwhile, although parents can join in the fun, they may also opt to relax in an air-conditioned café located next to the Kid's Zone. The café has glass panels overlooking the play area which allow parents to keep an eye on their children.
Come and bring your family to Langkawi Wildlife Park to enjoy the interactive activities with the animals. Apart from this latest attraction, don't miss the chance to see many other shows and activities offered there. The park opens daily from 8.30am to 7pm. Last entry into the park is at 6pm.
---
LANGKAWI WILDLIFE PARK
Lot 1485, Jalan Ayer Hangat ,
Kampung Belanga Pecah, 07000 Langkawi, Kedah.
Phone:+60 4-966 5855