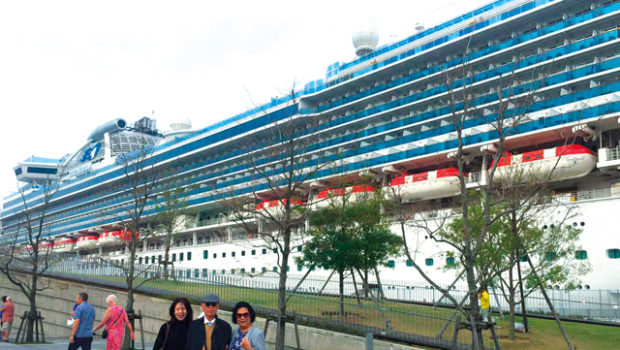 Oh Princess, you make me feel like royalty
WORDS & PHOTOS BY TAN LING LI
On a seven-day voyage on board Sapphire Princess from Beijing to Shanghai recently, I discovered to my great delight that even if you're not a big fan of cruising, the Princess Cruise experience is likely to change your mind. "There's so much to do and so little time to do everything!" is the first thing that hits you.
As the sun set over the Beijing horizon and we sipped cocktails on the Lido Deck on the 14th floor – wind in our hair and smiles on our faces – Sapphire Princess sounded her majestic horn, and we set sail. The best thing about cruising is that you visit so many cities and countries from the comfort of your floating hotel. Sapphire Princess became my home for seven glorious days. Days spent going on exciting shore excursions – to Busan, Nagasaki, Kagoshima and Shanghai – interspersed with languid "sea days" on board exploring the ship.
And there is much to explore. With a dizzying array of food outlets and bars, four pools, three outdoor jacuzzis, a theatre, gym, spa, casino, night club, cigar room, outdoor and indoor cinemas, shops and pop-up bazaars, internet centre, myriad live entertainment, concerts and shows, these were halcyon days at sea, worrying only if you have enough hours in a day to try out everything. There are also art auctions, professional photo shoot sessions, ship tours, port lectures and other educational programmes.
The central hub of the ship – the Piazza – has a town square atmosphere, and there is always something happening, from street performers and chocolate making demonstrations to live music from soloists and lively string orchestras. Soaring three floors over the Piazza is the Atrium, an elegant space of shimmering staircases and crystal chandeliers, surrounded by shops, cafes and lounges. Guests also enjoy being spectators to Piazza happenings at the balustrades which wrap around over three floors of the Atrium.
Dining is a total adventure in itself. There are five main restaurants where guests can opt for traditional dining (fixed time and fi xed table for dinner every night) or the innovative, newly-introduced "Anytime dining" (the flexibility of dining anytime at whichever restaurant we like). This is in addition to mind-boggling, mouth-watering buffet spreads for breakfast, lunch, tea, dinner and supper, at the Horizon Café (open from 5:30am to 12 midnight). For a token USD25 a head, guests can also choose to dine at the speciality restaurants, including Sterling Steakhouse and Sabatini's Italian restaurant; on selected nights, seafood dinner is available at Crab Shack and seafood steamboat at Hot Pot.
Cafes, deli and cake counters serving all manner of fast food, dessert and snacks, and a pizzeria are open throughout the day, all free of charge. The award winning pizza and soft-serve ice cream were hugely popular, but it was the chocolate chip cookies that stole my heart. For those less inclined to walk to the food, room service is available around the clock, from a comprehensive in-room menu, hence breakfast in bed or a snack at 4am is a phone call away.
When night falls, there are exciting concerts and live shows to look forward to at the Princess Theatre, backed by the ship's world-class orchestra, Princess Orchestra. The casino and slot machines beckon, as do the bars, disco night club and karaoke lounges.
Sapphire Princess accommodates up to 2678 guests in more than 1,200 comfortable cabins – from suites and mini-suites, to staterooms with balconies or ocean view, and interior. With a 3:1 ratio of guest to crew, service is never compromised. Princess cruises rose to fame when one of its ships was the set for the hit tv series "Love Boat". Princess soon spread its sails to distant shores around the world, adding to its fleet and building on its itineraries to include exotic voyages and destinations in the Far East and the South Pacific. These include short itineraries of four days to round-the-world voyages of up to 111 days.
In Malaysia, Princess calls at Penang, Langkawi, Port Klang and Kota Kinabalu as part of South East Asia cruises where passengers embark from Singapore and/ or Perth. Popular with Malaysians is the 11-day round trip cruise from Singapore, calling at Kota Kinabalu, Nha Trang, Ho Chi Minh City, Sihanoukville, Bangkok, Koh Samui, and back to Singapore.
Another popular one is the 7-day round trip Singapore, Koh Samui, Bangkok, HCMC, Singapore cruise. The seven-day passage I embarked on is part of the classic 17-day Grand Asia tour which sails between Singapore and Beijing; this itinerary also operates in reverse order, which means passengers can opt to embark in Beijing or Singapore. For information on Princess Cruises check out their website www.princesscruises.com or contact your travel agent.