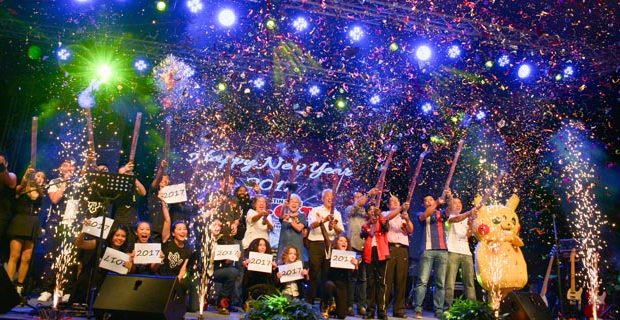 Fireworks @ New Year Countdown
Get ready to usher in 2018 and sign off the year with high spirits by joining action-packed boisterous street bashes near you.
Live stage performances and rousing cheers will lead up to the New Year's countdown followed by displays of splendid fireworks across all parts of Malaysia.
In Penang, several shopping malls have lined up various spectacular programmes to close the year on a high note with fun, cheer and laughter.
Thousands of people from all walks of life are set to be in a frenzy mood to bid farewell to 2017 and welcome 2018 in style.
Be it street dances, singing contests or band performances, organisers have come out with a wide range of programmes that will enthral the crowd who are in for a treat.
Among the places to attend the New Year countdown fireworks display are Straits Quay, Auto City, Queensbay Mall and Karpal Singh Drive.
The night-long celebrations are filled with entertaining performances and fun-filled activities that will take place in the evenings right until the wee hours of the first day in 2018.
At Auto City, The New Year Countdown features Astro Hua Hee Mega Star Final contestants who will compete against each other and be crowned champion just before 2018sets foot. The genre of this singing contest is Mandarin-pop.
Over at Straits Quay, the countdown will be infused with South American touches such as the Brazilian Samba Dance, futuristic mirror dance, live deejay mix and laser board dance, to name a few.
A spectacular grand firework will wrap up the countdown at the Straits Quay and Karpal Singh Drive seafront promenades. Hundreds of balloons will be released into the air at midnight to mark the new year.
Go over to M Mall, Gurney Paragon, Gurney Plaza to enjoy an evening of live music at the al fresco dining areas with games and stage performances from local and overseas groups.
In Langkawi, fireworks will light up the sky at Eagle's Square and a midnight run will end in the early morning of 2018. A midnight run will usher in 2018 as runners crossed the finish line minutes into the new year.
Magnificent fireworks will also be on display in our capital city, Kuala Lumpur, at several locations, namely, the KLCC Park at Petronas Towers, Dataran Merdeka, Sunway Pyramid, Bukit Bintang and Damansara Mutiara. So, let your hair down and go celebrate to your heart's content.