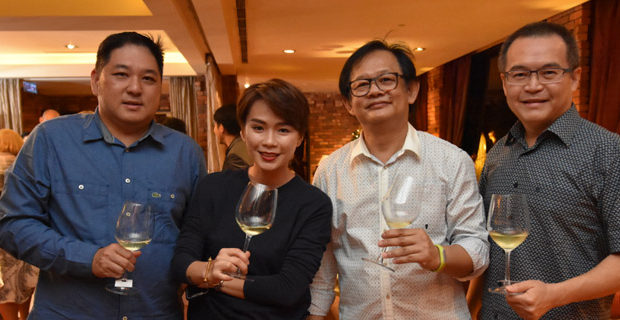 Feringgi Grill pairs up with Napa Valley for a night of fine wine and cuisine
Shangri-La's Rasa Sayang Resort & Spa, Penang recently collaborated with Beringer, California's premier wine producer, for a memorable night of gastronomic excellence perfectly paired with Napa Valley wines at the award-winning Ferringi Grill.
The event was packed with a full house of winers and diners, both from inhouse and local patrons.
The evening began with a cocktail reception around the Feringgi Bar, where guests were warmly welcomed by Sam Stephens, winemaking ambassador.
Together with Stephens were his local importer, Jill Moo; Brand Manager, Catherine Thong; the sales General Manager of Luen Heng F&B Sdn. Bhd.; and Catherine Loh, from Treasury Wine Estates. Beringer Founders Estate, Sauvignon Blanc 2014 accompanied an exquisite selection of delicious canapés.
Guests were then ushered to the Feringgi Grill dining area to experience a sumptuous multi-course dinner prepared by Feringgi Grill Chef de Cuisine Thibaut Pouplard, along with five labels of premium wines from Napa Valley.
Dinner started with amuse-bouche, followed by appetising sliced Hokkaido Scallops served with Sterling Chardonnay 2015.
Then came the delicious Morel Risotto perfectly complemented by Beaulieu Vineyards CA Merlot 2015. Prior to the main course, Mango Sorbet with Pepper, Grapefruit and Gin was served while guests mingled and carried on with their conversations.
Wine lovers indulged in succulent slow-cooked Short Ribs Bordelaise that went well with Stags' Leap Napa Valley, Petite Syrah 2013. Before dessert, everyone experienced the exquisite combination of Artisanal Cheese Plate paired with Beringer Napa Valley Cabernet Sauvignon 2013.
The evening was capped with delicious Passion Fruit and White Chocolate Cheesecake served with Beringer 'Classic' Moscato 2015.
In between courses, guests had a wonderful opportunity to explore the world of Napa Valley wines through Mr Stephens' expertise and insights.
The night proved to be another evening of amazing cuisine and fabulous wines as everyone enjoyed the well-curated selection of beautifully balanced wines from California's award-winning vineyards.