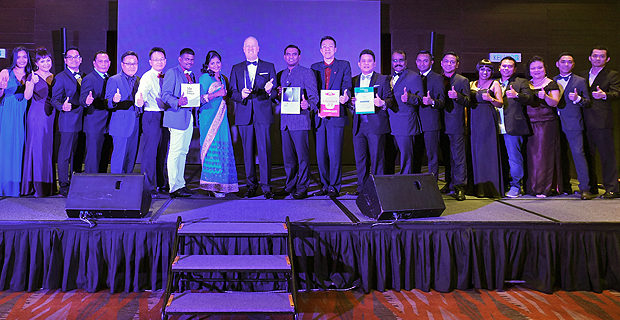 Words by Stevie G
G Hotel Gurney – following a RM35 million revamp – and its sister hotel G Hotel Kelawai have bagged several awards this year.
They raked in five more prizes to add to the cabinet of awards from renowned international organisations and online travel portals.
This time, they won the "Luxury City Hotel of the Year 2016 – Malaysia award" by Luxury Travel Guide from Birmingham, England. The award recognises and celebrates excellence across all sectors of the affluent travel and tourism industry.
The "Luxury City Hotel of the year" represents the pinnacle of hospitality achievement, certifying that the hotel is equipped with modern facilities and providing the ultra chic, contemporary and stylish setting for a luxury stay.
Through the rigorous assessment criteria, which was carried out by TV personalities, luxury travel photographer and the in-house professionals, it ensures only the most deserving firms and individuals walk away with one of these accolades and gain a place in the awards winners' guide.
G Hotel Gurney confidently showcased what it has to offer to over 500,000 readers of the leading provider of travel news.
It also bagged the Certificate of Excellence Award 2016 from Hotels.com, a leading online accommodation booking site, for the second consecutive year.
To determine the initial recipients, Hotels.com analysed its database of more than 15 million Genuine Guest Reviews, which are verified upon the completion of each guest's stay.
G Hotel Gurney also made it to be the Best Rated Hotels on HolidayCheck – Europe's biggest hotel review portal with 27 million visits each month – for the third time in a row.
The minimum criteria for the participating hotels of this award is to have at least 4.0 of the overall rating out of a possible 6.0. This year, G Hotel Gurney receives an exceptional score of 5.6 which celebrates a consistent outstanding traveller review on HolidayCheck from the year of 2015 to 2016.
Meanwhile, G Hotel Kelawai that opened for just a year also added a pair of accolades from International Design Awards (IDA) – a Silver award for IDA 2014 under Interior Design – Commercial category and an Honourable Mention award for IDA 2014 under Commercial – Pro category.
IDA exists to recognise, celebrate and promote legendary design visionaries and to uncover emerging talent in Architecture, Interior, Product, Graphic, and Fashion Design. It aspires to draw attention to the iconoclasm of design worldwide, conceptualising and producing great work.
IDA honorary juries examined over 1000 entries submitted by architects and designers of interiors, fashion, products, and graphics from 52 countries throughout the world. After final decisions has been made, the jury rewarded the best professional and emerging designers for their achievements in terms of design, creativity, usability and innovation.
Spearheaded by K2LD Architects from Singapore, G Hotel Kelawai stated that it is fortunate to win these coveted awards.
"It is a true source of pride for the entire G Hotel team to receive these recent citations.
"Knowing that our hard work is being recognised in the pursuant of excellence for all our guests, we will not rest on our laurels but will continue to provide exceptional services to make each of our guests' stay a satisfying one," said general manager Michael Hanratty.
To-date, G Hotel Gurney and G Hotel Kelawai have collectively won over 80 awards.