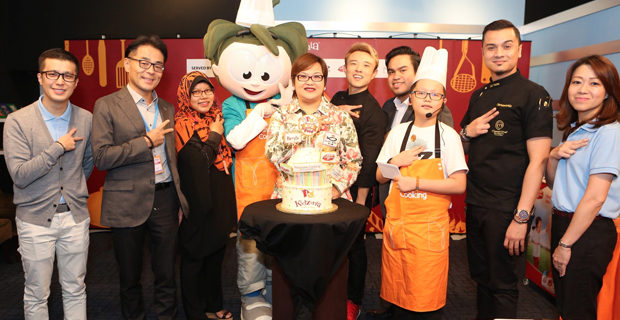 Little masterchefs, KidZania style
By Serene Leong
KidZania Kuala Lumpur is training 'little masterchefs' in its 'KidZ vs Food' programme from November 26 to January 1, teaching children the simple joy of cooking and how to look at food in a different light.
Children will learn in professional workshops from celebrity chefs Dato' Fazley Yaakob and Brian Chen, who is more fondly known as Abang Brian; international food artist Samantha Lee, award-winning cookbook author Mohana Gill, and the inspiring seven-year-old Chef Leah of 'Chef Leah with a Big Heart'.
At the Pop-up Kitchen, the children will learn to take charge as they handle end-to-end prep of fast and easy recipes that they can then re-enact at home.
At Food Science, they will explore the more technical aspects of cooking that show how chemical reactions and conditions can create different food tastes and textures.
Meanwhile, the Food Art programme will teach kids the basics of food presentation and how to create beautiful desserts.
They will also take part in the cooking contest 'KidZania Zuper Kitchen Challenge' where the top five finalists will get the chance to receive prizes comprising of Panasonic cooking appliances, culinary courses at the Young Chef's Academy, autographed cookbooks, as well as KidZania Kuala Lumpur tickets and merchandise worth over RM5,000.
Shahrul Nizar Ahmad, Mayor of KidZania Kuala Lumpur, says the programme with various cooking tasks and challenges will teach children about self-sufficiency and confidence, not only elements and cooking processes that are practical and fun.
"When you change the way you look at things, the things you look at will change. We hope that through KidZ vs Food, we will be able to alter how kids look at food and cooking.
"We want them to discover the simple joys of cooking and build a sense of confidence and self-sufficiency that comes from successfully completing various cooking tasks and challenges," he says.
Shahrul also says the programme will also be valuable to parents, allowing them to see that by involving their kids in the kitchen, they will also teach their kids science in action.
"They will help lay down basic maths, reading and time-telling skills; encourage healthy food choices; build confidence and creativity; enhance communication and deepen connections with your child."
Meanwhile, Panasonic Malaysia managing director Hiroyuki Muto says the company was happy to partner with KidZania Kuala Lumpur to sponsor the KidZ vs Food programme, adding that working with children to get them excited about food is a positive step towards developing an important life skill.
"At Panasonic, we also pride ourselves on developing innovative products that will enrich the lives of Malaysian families. This extends to our kitchen appliances which are designed for safe and effective use so even children will be able to use them under supervision," Muto says.
Other sponsors of the programme are Vitagen & Marigold, Sushi King, Lifebuoy, Beryl's and the Young Chefs Academy.
For more details on the programme, visit www.kidzania.com.my.