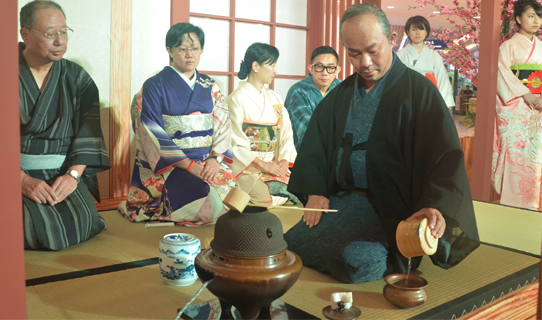 Japanese tea ceremony an elaborate affair
Shoppers and guests have had an insight into a Japanese Tea Ceremony when it was hosted at Gurney Plaza as part of the Amazing Japan launching ceremony.
Present at the colourful event was Consul General of Japan in Penang, Kiyoshi Itoi, along with Pulau Tikus assemblywoman Yap Soo Huey dressed in a Japanese kimono.
Also present was Gurney Plaza centre manager Peter Chan and general manager (Mall Management Northern region) Selina Ng,
A mini "chashitsu" or Japanese Tea House was set-up at the foyer of the mall.
In his opening speech, Itoi says the Japanese tea ceremony is a unique Japanese culture that has been preserved for a long time.
"It gives a positive impact and teaches good characteristics that need to be instilled in everyone such as manners, beauty, simplicity, respect, appreciation, humbleness and kindness.
"During the serving and receiving tea at the ceremony, we emphasise on the concept of "Ichigo Ichie", which literally means "one opportunity, one encounter," says Itoi.
"The host and guest meeting each other is a once in a lifetime. As such, we must treasure every encounter for it may never recur," he adds.
The evening also showcased Japanese martial arts of Kata followed by an art exhibition of water colour paintings of Japanese scenery by Japanese K. Sato.
Over the weekend, shoppers can also take part in Kimono and Yukata dressing and photo contest. The Amazing Japan celebrations are being held at the Gurney Plaza for the fourth consecutive year.