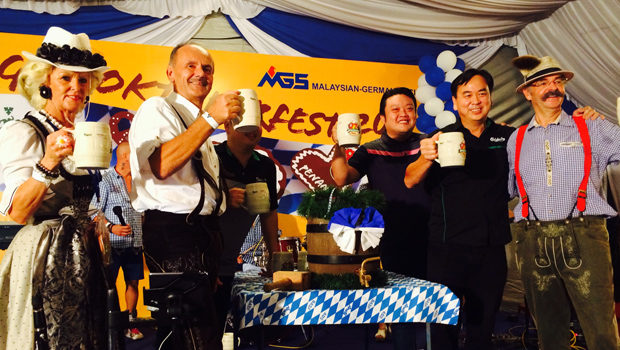 Authentic Bavarian music for Octoberfest
The 3,000-odd people who observed the recent Oktoberfest organised by the Malaysian-German Society in Penang – the 44th celebration since 1972 – had a taste of Bavarian music from a band flown in direct from Germany.
They were entertained with performances by the "Bayernman" band in a night mixed with games, laughter and flows of beer.
Joining in the fun and laughter were Chief Minister Lim Guan Eng, Penang Tourism and Culture Committee chairman Danny Law, Honorary Consul of Germany in Penang Datuk Hans Peter Brenner and Malaysian-German Society president Achim Lauermann.
Lim says many Germans had make Penang their second home a state which accounts for the biggest slice of investments from Germany in Malaysia.
Carlsberg Malaysia's northern region manager Lim Eng Wah and corporate communications director Pearl Lai, who came from Kuala Lumpur, also attended.
At another Octoberfest gathering at the Eastern & Oriental Hotel in George Town, general manager Michael Saxon also celebrated with 150 guests.
The guests arrived in traditional garb with the men dressed in "Lederhosen" (leather breeches) and the ladies clad in "Dirndl", the traditional dress for women in Bavaria and Austria.
They tucked in authentic German food like sauerkraut, pretzels, sausages and meatloaf.