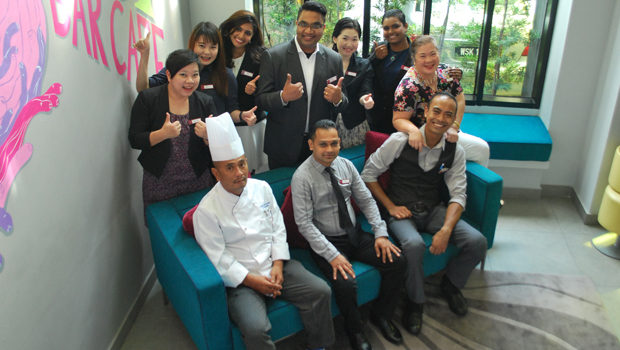 A spectacular GLOW in Penang
Words by Stevie G.
Glow Hotel is relatively new in Penang. Branching out from Bangkok and Phuket, Glow Hotel picked Penang as its third city to establish its brand name in the hospitality industry in 2014. Located smack in the heart of George Town along Macalister Road, Glow is within walking distance to nearby shopping – specifically a 12-minute walk to Komtar, famous local foods and cultural areas.
Glow Penang has cosy and comfortable rooms with various sizes for single guest, double or the whole family. Spaciously designed with exciting colours to match, Glow Hotel stands out along the busy street with an entrance and signage that is bathed in neon pink.
Guests seeking rooms with modern and full amenities would find that Glow Hotel Penang has it all. The bedding is comfortable and complete with room facilities like television, hot shower and free WiFi. Windows are aplenty to let in natural light.
Zest Cafe is located on the first floor of the hotel and guests may dine-in for convenience if they wish to. Breakfast is buffet-styled with a mix of local and Western spread. There is also a gym, swimming pool and a bar. Artistic and colourful paintings and drawings on the walls and ceilings are the main attractions in Glow Penang.
According to the director of operations for Malaysia and Indonesia, Alison C. Fraser, their aim is to offer simple and smart accommodation solutions with solid returns on investment for property owners. "We hope to be expanding the GLOW brand throughout Malaysia over the next five years," said Alison who has nearly three decades of experience in UK, Middle East and Asia.
Look out and say hello to Navintheran Sinarimuthu or Navin for short. He is the hotel manager who has been in the hotel industry for more than 19 years. Taking the cue from successful global companies such as Google and Facebook, Navin lets his staff in during the decision making process.
"It's not just teamwork for the team's sake. Here in GLOW Penang, everyone shares information and decisions are made as a team, which only means better, more insightful decisions," says Navin in an exclusive interview with Where2. "This simple philosophy distinguishes us from others. It is our way to expedite the decision-making process in our organization," he explains.
Apart from its ultra-chic and fun design, all furniture is carefully selected to deliver a relaxing feeling to guests.
For reservation and inquiries call 04-226-0084 or visit www.glowhotels.com