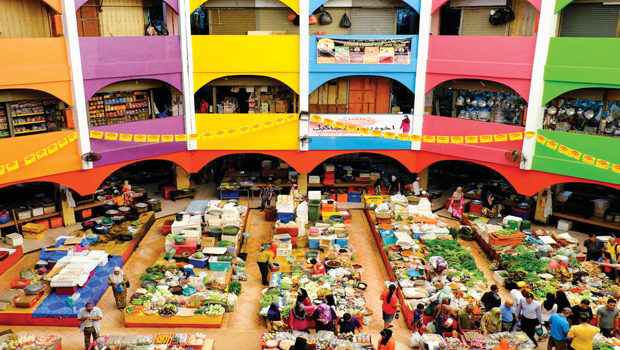 Pasar Siti Khadijah Kelantan
Words by Sharon Song
Kelantan Darul Naim, the Blissful Abode, you totally surprised me with your unassuming beauty and although I blame you for making me ditch my diet, I wish I had more time to get to know you better.
My diet-wrecking introduction to Kelantan was Pasar Siti Khadijah, located in Kota Bahru, so named after the Prophet Mohammed's wife who was a successful businesswoman. It is an octagonal four storey building which is a famous tourist spot for traditional handicrafts.
The ground floor is a wet market where you can buy groceries and delicious local fare with really cool names like 'tahi itik', 'akok', 'tepung pelita', 'jala mas' to name but a few. Tell me who can resist all that yummy mouthwatering kuihs and keropoks!
The second and third floors are where you find kitchenware, clothes, fabric, and souvenirs, made of copper and silver. Kopitiam Kita, located at Taman Desa Jaya, Pengkalan Chepa is where all the famous food of Kelantan can be found under one roof.
Nasi Dagang, Nasi Kerabu, Nasi Tumpang, …it is all there. And one does not forget the Roti Titab, when one is in Kelantan, the signature dish, a slice of buttered toast dotted on four corners with homemade kaya (a coconut jam) and right smack in the middle sits a wobbly poached egg.
And as you are sinking your teeth into the excellent Roti Titab your eyes wander to the walls and you almost shower your dining partner with bits of chewed bread as you sputter "hey isn't that Datuk Siti Nurhaliza? And Tun Abdullah Ahmad Badawi?"
Pictures of their famous patrons from local politicians to famous celebrities adorn the walls so it is perfectly normal to want to snap a "I Was Here" picture with the manager, Mr NG as well. When I was there, the Table Tennis contingent from Penang was there for the annual MSSM which Kelantan was hosting and they too could not resist a photo op with Mr NG.
Kelantan does not only have its glorious local food to entice visitors, it is home to the largest sitting Buddha statue in Asia which can be found in a local village called Kampung Jubakar, in a temple also known as Wat Machimmaran.
The undertaking of the task began in the year 2000 and it took the many craftsmen from Thailand 10 years to complete. It reaches 30 meters in height and is 18meters wide and what a sight it is. Besides the Sitting Buddha one can visit the Reclining Buddha as well as the Standing Buddha temples.
Another interesting site is the Beijing Mosque or also known as Masjid Jubli Perak Sultan Ismail Petra, with its unique architecture which combines Islamic and Chinese influences.
The mosque which could be mistaken for a Chinese temple resembles the Niujie Mosque in Beijing, China which is over 1000 years old. Kelantan's Beijing Mosque, built in September 2005 and inaugurated in August 2009 cost RM8.8million and can be found in Rantau Panjang.
The town of Rantau Panjang, itself is a charming place to explore and relax. So pick a spot, chill with the famous dessert in Kelantan, the 'ais krim kelapa'. And as you dig into the scoops of ice cream sitting in a coconut shell with red beans, ice shaving and jelly playing peekaboo underneath, just spend your time people watching.