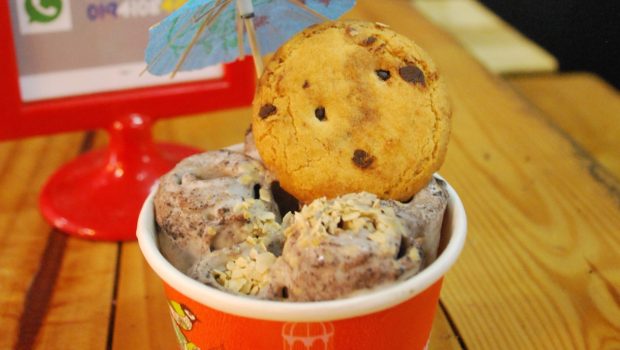 Words by Wana Yahaya
Photos by Yohh Nadirah
Remember the hype about Aiskrim Pasu (Pot Ice Cream)? Well, where2 managed to meet the man behind the unique twist on everyone's favorite dessert.
The boutique, Kasyaf Imani Boutique can be found shying in between lanes of shops close to Bukit Jambul Complex. Situated at the back of the boutique turned into café, the co-owner, Irwan crafted some delicious homemade ice-cream using his own ingredients. "I took almost two months to finally master the making of roll ice-cream". Amazingly he did it on his own, perfecting the recipe by himself. Every single step is self-taught all the way to crafting the recipes.
The husband and wife duo is an ardent fan of road trips as they have been travelling around the Peninsular Malaysia to promote their products. The couple barged their way into festivals and pursued their intention of making the ice-cream well-known to people. Back in the days and the rising hype of Aiskrim Pasu, they used to have customers lining up outside their boutique for an astounding 2-hour. With the travelling, they hoped to regain the same euphoria.
A whooping 22 recipes listed on the menu and more if you are a fan of custom-made ice-cream made from fresh milk and simple mixtures that made the ice-cream tasting all fresh. Among the most sought after rol ice-cream is those incorporating chunks of Oreos and spoonful of Nutella. Apart from that, for weekends, family based customers usually went for the fruits. The ice cream is presented with slices of fresh tropical fruits such as mango and more.
There are certainly a lot to indulge if you visit this quaint café. Not only we were served two servings of roll ice-cream, we managed to try at their famous Thai Pot and Ice-cream shake. Uniquely, the Thai Pot is Thai tea served inside a multi shaped pot to which you can choose. There were pot in the shape of a flower pot, Doraemon and more. The fun to this? You can bring back the pot, it's yours!