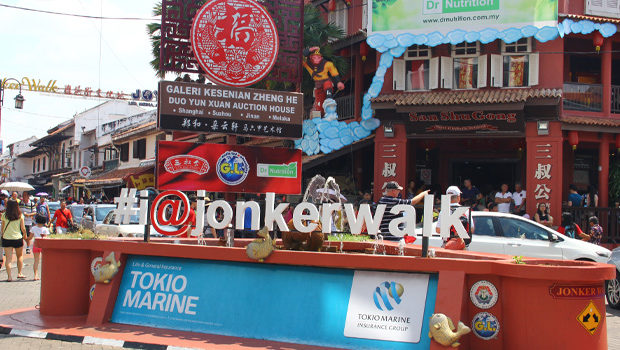 Words by Harny Abu Khair
Night markets and night bazaars are popular tourist destinations all across Asian countries. Locally known as 'pasar malam', street traders – some on a regular basis and some ad-hoc – convene to sell their goods to visitors. Regular features at these night markets range from food, household products, clothes to accessories. Night markets flourished from humble beginnings, way before the existence of supermarkets, hypermarkets and malls.
Jonker Street is the most popular night market in Melaka. Every weekend, roads leading to the night market will be crawling with cars with full passenger loads, hoping for an empty spot to park.
I find it enjoyable to scout unique and quirky souvenirs at Jonker Street. Along the way, I indulge in savoury local food and watch people walk by. By 5pm, the hawkers would be setting up their stalls and displaying their wares in the open-air street market.
Jonker Street is more than just trinkets, neon lights and noisy rickshaws. It is a rather long street with a combination of old and new charm, different people and provides a traditional shopping experience. Haggle all you like; a good bargain is what everyone is looking for.
Here, you can purchase souvenirs and cheap mementos and feel transported back in time as visitors are surrounded by old buildings with old Chinese architecture on either side of the road.
After all, this place was once Melaka's Chinatown before other traders started to make their way into the area. Now, you can savour a mix of delicious pastries, Nyonya food, Portuguese cuisine, desserts and enjoy many more original recipes here. Durians, the king of fruits, although pungent and repulsive to most first timers, is a favourite among locals and brave foreigners. Durian lovers are hooked due to its taste and texture – some creamy and sweet, some drier, and some bitter like whiskey. Well, that said, it is also only during durian season that you may find durian crepe, durian mochi, durian ice-cream and durian cendol.
If you are looking for something different, why not try the latest in-thing at Jonker Street. For RM10, get fresh watermelon juice in an emptied-out watermelon, just like drinking coconut juice! I also had the opportunity to try the egg-shaped ice-cream and coconut shake. I simply love Portuguese egg tarts. Where else can you get the best Portuguese egg tarts except at Jonker Street?!
Jonker Street during the day still bustles with people looking at antiquated shops. These days, hipster cafes and trendier outlets are fast replacing these outdated shops. However, if you look closely, you may still spot authentic Baba and Nyonya furniture, heavily decorated wooden doors, and even Nyonya 'kebayas' on sale.
For those who are into arts, then check out the Orang Utan gallery, showcasing contemporary arts by Malacca born artist Charles Cham.
And if you miss the pasar malam but still looking for something to bring home for family and friends, you may visit Jonker Gallery outlets. The night market is opened only on Fridays, Saturdays and Sundays.