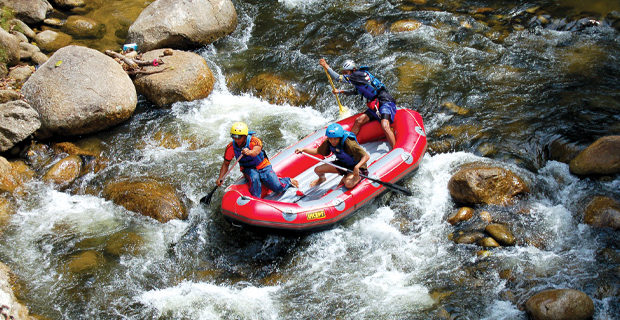 Sedim Adventure – Discover Kedah 2016
Photos by Tree Top Walk Sungai Sedim
It is the year to discover Kedah and this time we bring you the adventurous attractions in Sedim River. This pristine river, flowing through the Gunung Iras Forest Reserve is located about 30 km northeast of Kulim. The area has been developed into an extreme sports recreational centre with sporting activities such as whitewater rafting, kayaking, mountain bike, camping and tubing. Nature lovers and photography enthusiasts will delight in the flora and fauna of the rainforest.
Furthermore, Sedim River is fast and long becoming the important part of the ecotourism industry in Malaysia.
HOW TO GET THERE
From Penang: Take the Butterworth-Kulim Highway and look for the road sign pointing to Hutan Rekreasi Sedim River. You will pass through narrow roads with fruit plantations on both sides until you reached the recreational area.
From Kuala Lumpur: A 5-hour drive to Kulim before proceeding for another 30km to Sedim where you can the 'Hutan Lipur Sungai Sedim' road sign.
From Alor Setar: Please take the Butterworth-Kulim Expressway (BKE) and take the exit, Kulim Hi-Tech Park and proceed about 30kms to Sedim.
If you're lost fret not. Just stop and ask people for directions.
SHADES OF THE TREE CANOPY
There are a lot of things that you can do here. Either with friends or families, there are activities suited for everyone! For people who come to seek the solitude and be close to nature, Sedim River is definitely a perfect place. Tree Top Walk Sedim River is the world's longest rainforest canopy walk with a length of 925 metres and a height of 26 metres up above the forest floor at its highest point. The walkway follows a roughly rectangular shape and crosses the river twice.
It took an astounding 14 months to build and it was fi nally completed in March 2005. It is a substantial structure made from steel pylons and trusses which together weigh a massive 422,214 kg according to a notice in the ticket office.
Some might argue that this is more like a pedestrian suspension bridge from one tree to another rather than the usual canopy walk you see around the world such as the famous Kendenda Canopy Walk in Atlanta, Georgia, America. The Sedim River's Tree Top Walk is a canopy walk that is not attached to the trees.
However it does provide a bird's eye view of the roof of the forest and since it is self-supporting, it does not damage the trees. Although the walkway is made from sturdy steels, it does sway and wobble somewhat and the children will enjoy as it gives out the feel of a real swaying canopy walk.
OPENING HOURS
The Tree Top Walk is open daily from 9am to 5.30pm, weather permitting. Entrance is RM10 for adults and RM6 for children aged 7 to 17.
FLOAT DOWN THE SEDIM RIVER AND MORE
The turbulent Sedim River offers exciting whitewater rafting opportunities for the adventurous. An added point to whitewater rafting in Sedim River is that it is internationally known as one of the most challenging rapids therein the world. Every year, whitewater rafters and kayakers made their way to Sedim River to experience its challenging 24 rapids stretching along the 16km run. It sure is one exciting and full-of-screams adventure!
There are a lot of packages that you can try depending on the number of pax and the range of activities that you want to do. Adventure provider such as Whoa! Adventures for example provide few packages.
Package A offers full day rafting, Package B offers half day rafting and Package C offers a combination of rafting and tubing.
Hiking is another activity offered here. According to a map next to the Tree Top Walk, there is a trail to Gunung Bintang, 1862 m, via Lata Riau. The distance shown is a very challenging 14.2 km (one way). Another trail passes a number of Lubuk (swimming holes) including the intriguingly named Lubuk 3 Beradik.
Various fun or team-building type activities such as all-terrain vehicles, abseiling, paint-balling, fishing and camping can be arranged here. The canopy walk is ideal for birding enthusiasts and butterfly lovers. Sungai Sedim Recreational Park is definitely one spot for those out there looking for some adventurous fun or basically those wanting to spice up their weekends.
SUNGAI BATU THE SITE OF SOUTHEAST ASIA'S OLDEST CIVILISATION
Confirmed! Sungai Batu Archaeological ruins is the site of the earliest and oldest civilisation in Southeast Asia.
Five world archaeological experts, representing five world civilisations, namely Mesopotamia, Indus, Mesoamerica, China and Greek-Rome, signed a declaration plaque endorsing Sungai Batu.
The plaque was presented by Oxford University archaeologist Prof Dr Stephen Oppenheimer to Universiti Sains Malaysia (USM) Global Archaeological Research Centre Director, Prof Dr Mokhtar Saidin, at a simple ceremony.
Prof Mokhtar started excavating nearly a decade ago and he found artifacts that indicated Sungai Batu has had a vibrant iron smelting industry in the 535 B.C. Recently his team discovered remnants of ancient ships or barges and ruins of jetty that showed a wide river once run through the present oil palm plantation.
ANCIENT RUINS TOUR
As funds are needed to conserve the ruins and keep excavation works going, Kedah Tourism Sdn Bhd CEO Dato' Zulkifli Mohamad has proposed a plan to monetise the historical significance of Sungai Batu as a world ancient site by turning it into a tourism spot for history buffs.
He is customising a tour package will link Sungai Batu ancient civilisation with two ancient Buddhist ruins that were established later; the Angkor Wat in Cambodia and Borobudur in Indonesia. This package will be marketed at the World Travel Market in London this coming November.