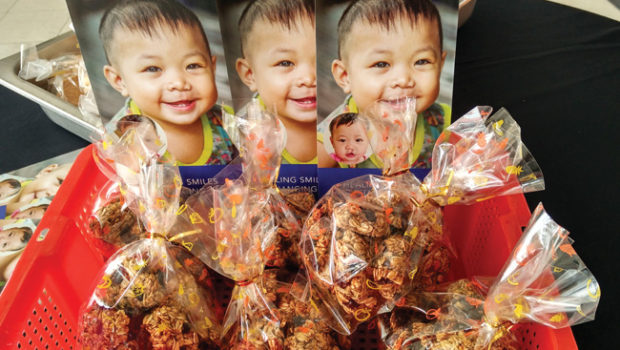 Baking to put smiles on cleft lip kids
Words by Tharanie Rajendran
Operation Smile restores self-confidence and improves the speech of children impaired by cleft lips.
Taking the cue from Glow Hotel Penang's parent company InVision Hospitality's corporate social responsibility programme, the hotel launched a campaign to raise funds to enable these children to undergo corrective surgery and speech therapy and other domestic expenses.
The hotel's human resource manager Sharon and the team has been busy baking cookies with a purpose – to bring smiles to less privileged children. In the last few years, more than 7,000 children from Thailand, Laos and Myanmar have benefitted from Operation Smile.
Putting her baking skills to good use, Sharon is continuing a mission she has set out to do in the past few years.
The hotel raised RM2,700 two years ago and RM4,000 last year, exceeding its RM3,000 target. This year, the goal is to hit RM4,000 again.
Glow Penang hotel manager Navintheran Sinarimuthu tells where2 that their homemade cookies are in demand, quite popular with students and are always sold out in schools.
He says the money raised has made it possible to put the 'smile' on the faces of these children to afford surgeries to correct their cleft lips. Sharon, who is leading Glow Hotel's Operation Smile fundraising campaign, says it does not end after the child undergoes the surgery.
Speech therapy will follow so the child can learn to speak normally. So the funds Glow Hotel is raising will cover operation costs and the speech therapy too," she says.
"We are getting good sales with the help of a group of energetic students from an appointed school to push sales. We also have a booth at a local supermarket and extending the sales of the cookies together with some handicrafts at a charity booth at Straits Quay," she says.
The cookie sales will run until the end of the year.