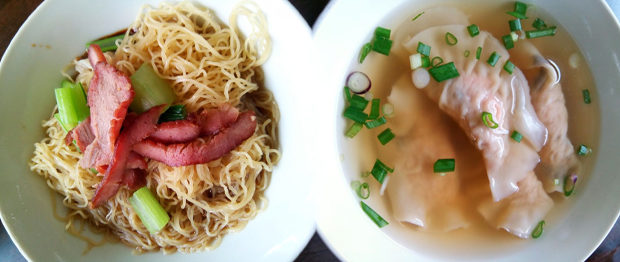 Words & photos by B.L. Khoo
I have seen it on food shows but I never thought that I would find a shop in Penang that actually does that!
What am I yammering about so excitedly? Well it's the Bamboo Wan Ton Noodles, traditionally made by the Chef who rides the bamboo log pressing down a combination of ingredients, eggs and flour. This old manner of noodles making is rarely found in Malaysia and as I understand, it is also very rare even in Hong Kong or China now, where it supposed to originate from. It's pretty intriguing seeing the noodle maker bouncing up and down on the bamboo log.
The name of the noodles shop is Hong Kee Wan Thun Mee and it's located at Campbell Street, two doors away from the famous Nam Loong Jewellery shop. I quickly found myself a table right at the front of the shop, beside the preparation stall and spoke to a Chinese worker who was busy tossing the noodles up and down. I told him that this is my first time seeing such noodles making technique, live!
He obligingly told me that the shop owner actually engaged a "Noodles Sifu" from China to teach the skills of noodles making using the bamboo log. Watching the young man making the noodles inside the glassed-up room build up my appetite so I ordered a bowl of dry Wan Ton Noodles, a plate of braised Chicken feet, four numbers of Sui Kows and a side order of Char Siew which was highly recommended by the Chinese worker. The side order Char Siew was totally different from the ones they use for the noodles as it was much sweeter and succulent.
The noodle strands were quite fine, tasty and nicely prepared al dente style. Unlike the local Penang style Wan Ton Mee, which uses more of the thick, dark soya sauce this stall go easier on it so the noodles looks lighter in colour. The wantons that came along were big in size and the quality of the filling was excellent. However I found the Sui Kows and Chicken Feet to be just average.
After sinking down all these, I noticed that some other tables were ordering different noodles dish. I only learned later that the stall also offer other noodle dishes like Stir fried Oysters noodles, Char Hor Fun, Stir fried dried Hor Fun, Ee Foo Noddles, Steamed Chicken to name a few, besides the main Wan Ton Mee.
My heart says order more food but my pants were getting pretty hostile as it tightens around my waistline. I'm sure I will definitely make a quick return soon enough to try the other dishes this shop offers but meanwhile if you are around that area, do drop in as it's 'The Best Choice' there if you yearn for a good bowl of Wan Ton Noodles!