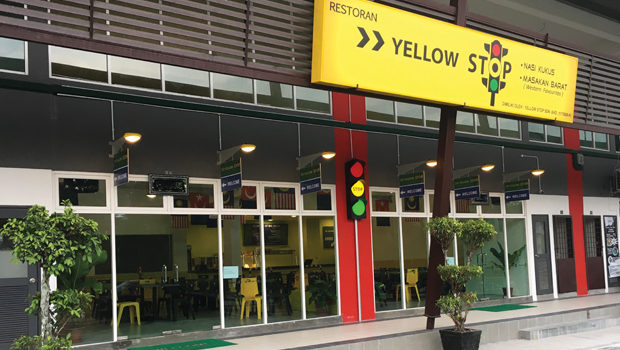 You might want to search 'Yellow Stop Restaurant' on Facebook and there you will find a lot of comments from satisfied customers who have tried the selections of food served at the restaurant. Specializing in Malay cuisine, the restaurant was named as Yellow Stop as to embrace the bright colour of yellow and as the owner Mahadi Mathana put it, the colour brings happy vibes.
Meant for families, the restaurant is designed with a playground inside where kids can play while their family enjoy the dishes served. Apart from that, the front part of the restaurant is air-conditioned while the back is not and is mainly for smokers. The restaurant is also vibrantly decorated with Malaysia and Johor flags with Pool Table and Foosball Table for those who would like a little playtime or just wanted to hang out at the restaurant.
You can find selections of Malay food especially Nasi Kukus. There are Nasi Ayam Berempah, Nasi Ayam Madu, Nasi Daging Masak Hitam, Mutton Set, and Prawn Set. The Daging Masak Hitam is a family recipe and one of the most popular dishes.
---
Yellow Stop Restaurant ,37 Jln ,Kolam Air 2, Taman Nong Chik, 80100 Johor Baharu, Johor.
Open from 11am to 11pm Closed on Fridays | T: 017 731 3115