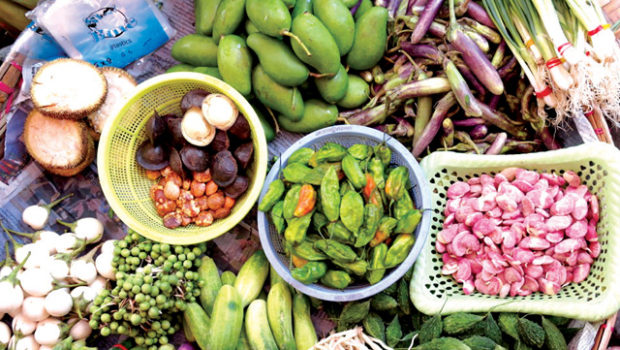 Words & photos by Lillian Tong
I had always thought that 'if you have seen one market, you have seen them all'. How wrong was I!
Here I was, again, at a Sunday morning market in Yangon, on my last day of travel in beautiful Yangon, where colours burst to life at every corner and where big umbrellas shielded sellers from the unyielding sun. Lily, my travelling companion is simply obsessed with visiting markets, often meandering from one stall to another, in excitement of discovering more varieties of salted fish. Yangon, is after all, famous for its salted fish.
We had, on that morning, boarded the Circular Railway Line, which by the way is a great way to go sightseeing as it makes stops at suburbs away from the city. The whole journey on an air-conditioned coach costed us 300 kyats and would have taken us 3 hours had we not alighted anywhere at all. On hindsight, we should have just opted for the 100 kyats option to experience more of the local culture.
As our train chugged through picturesque sceneries that included a lily pond, grassy fields, plantations and villages, we randomly hopped off one unnamed village, and as you must have guessed it by now, we visited the market.
At this busy market, the smell of brine wafted through the air as salted fish sellers peddled their goods in large gunny sacks, carton boxes and drying racks. Lily was overjoyed having arrived at stinky salted fish heaven. She squatted like the locals did and haggled prices like a professional. Business was brisk.
"Eight hundred kyats… or else I not buy," she warned.
"Eight hundred fifty…. Last offer!"
Before long, Lily bought three kilos of salted fish and was grinning from ear to ear, satisfied with her purchase. Little did she consider the stink that would wreck our suitcases later on. And not to mention the odour on our clothes. Eeew!
After that, we explored a coal merchant shop, a big box store, and a hardware store that harbour promises of undiscovered treasures and antiques. We also stopped for snacks.
Onwards, we stumbled upon a hole-in-the-wall dime store that was peddling all sorts of trinkets, ribbons, and beauty products. I spotted some Thanaka, which is said to be a miracle salve made from grinding the bark of the Thanaka tree into paste. The lable claims that the 'magic' Thanaka may be used as a sunscreen and it even has medicinal values to treat acne, sores, fungus, fever, poisoning and epilepsy. Hey, it's a miracle cure-for-all.
The train took a long time coming. I sat on the tracks catching few chapters off a book and even played hopscotch with the local kids. Everyone hurried off the tracks when a train appeared.
On the ride back, we observed travelling vendors hoisting up baskets of wares for the ride to town. Along the way, they grated coconut, packed syrup, arranged and rearranged their wares, and checked each other's goods. We could not make a word out of their chatter but their animated movements were telling enough.
Soon we were back in town and had just enough time to explore another market. The Thien Gyi market in Yangon city is peppered with an assortment of vendible merchandise, both indoors and outdoors. Apart from vegetables, fish and foodstuff, it has textiles, longyi sarongs, and somewhere among the little shops, I found a pair of fancy sponge slippers that guaranteed a cushioned walk.
I also picked up a vibrant green longyi. I was then directed to follow a cracked-cemented lane that led to a seamstress who quickly stitched-up my new longyi. I paid only USD 1.50 for the tailoring.
Back in the alley, baskets of fresh, green and colourful vegetables of all kinds lined the narrow walkway. Hmm… delicious ulam, I thought to myself.
Somewhere, the fragrance of flowers beckoned. We weaved through a sea of people before I spotted stringed-up flowers and baskets of roses at a stall tended to by a lady in a colourful floral flock. These jasmine floral strands are meant either for the hair or the altar. Nearby, a shop sells incense and items for worship – brightly folded paper and streamers on bamboo sticks.
We left the bustling market soon after, all tired and worn out. Within eyeshot, a mother was pulling her little bald-headed son along. Clearly, he still wanted to stay. And so did we.