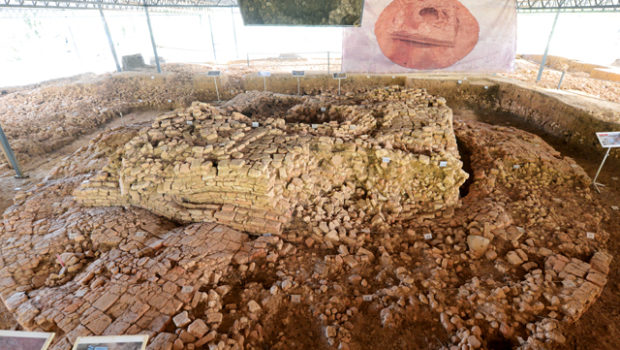 Kedah Tua – Southeast Asia's oldest civilisation
Where the more popular Bujang Valley Archaeological Site has fallen short, Taman Warisan Sungai Batu – a stone's throw away – may succeed now that it is recognized as the oldest ancient civilization in Southeast Asia.
Artifacts show Sungai Batu was the site with iron smelting activities, several jetties, sunken ships, places of worship and remnants of quarters and a harbour master building some 2,600 years ago.
A decade ago, this undiscovered site was a poultry farm amidst oil palm plantation. In the 5th Century, however, a river measuring 200 metres wide and 30 metres deep once meandered over the land there.
Having two significant archeological sites – Bujang Valley and Sungai Batu – have given birth to the new buzzword; archaeo-tourism. It may be the key to unlock the potentials the two sites have to increase tourist arrival to Kedah.
Kedah Executive Councillor in charge of Tourism Datuk Mohd Rawi Mohd Hamid says evidence from excavation and radiocarbon dating had confirmed Sungai Batu as the oldest ancient civilization in Southeast Asia, older than Angkor Wat which was found in 8AD and Borobudur (12AD).
The site proves that Kedah had reached its heyday not only during the Hindu-Buddish and Islamic periods but also much earlier in 535BC. Today we are proud to share this heritage," he says.
The challenge now would be to publicise its significance to win over the Federal Government to provide more funds to carry on excavation work and to build modern amenities to attract tourists to visit.
Within a year, an Interpretative Centre and amenities for hologram display with touch button would be installed at the archaeological site. There, Prof Dr Mokhtar Saidin says, visitors can watch and follow the rituals observed by the people during those days.
Dr Mokhtar, who is the Centre for Global Archaeological Research director, says walking platforms would be erected to enable visitors to have a closer view without encroaching on the site.
The site was excavated since 2007 and artifacts such as over two million eight-inch tuyere (a clay pipe used to raise the fi re to 1,200 degree for iron smelting) and mounds which were furnaces were found while sunken ships, 18-metre long, a mast, and many eight-inch iron nails were detected. At any one given time 2,600 years ago, there were at least 10,000 people working in Sungai Batu.
At the Sungai Batu Heritage Park, he says, 12 locals trained in iron smelting will show how iron ores were smelted and this demonstration will be part of the activities in the living culture gallery at the park.
He postulates a hypothesis that Sungai Batu furnaces once supplied high quality iron ingots to India that were used in making chariots and coins by the Roman Empire during the Babylonian era in the 6th Century.
Department of National Heritage Malaysia Commissioner Dr Zainah Ibrahim says the government has recognized Sungai Batu Archeological Site as a national heritage and is providing funds to improve amenities there. She is confi dent that efforts currently taken to submit Taman Warisan Sungai Batu for inscription as an UNESCO World Heritage Site would succeed.
Tour operator Eric Sinnaya, the Malaysia Tourism Council member, has described Taman Warisan Sungai Batu as a 'gold mine' waiting to be tapped to bring in more visitors to the state.
He is serious about introducing a new tourist product, which he termed as "the Ancient Iron route" after the likes of the Silk Road.
A more down-to-earth Malaysian Inbound Tourism Association president Uzaidi Udanis cautions against overselling the site as there are no concrete structure unlike those in Angkor Wat and Borobudor to attract tourists. He is positive that given the signifi cance of the site, it would over time attract tourists from the Middle East and Europe. Chinese tourists are already enjoying the various attractions nearby like boathouse stay and mangrove swamp tour near Sungai Batu.
"But I am confident that this site will take off in 10 years' time when more artifacts such as the sunken ships are unearthed," he says.
Kedah Tourism CEO Dato' Zulkifl i Mohamad says 29 world experts had gathered at the Kedah Tua International Conference (KTIC) at the Sungai Batu archeological site in Kedah recently.
The conference that had attracted international attention to Sungai Batu would be the harbinger of change to promote Kedah Tua internationally and put this oldest ancient civilization in Southeast Asia on the world tourism map during the London Travel Market in November.
The Festival Kedah Tua, held in conjunction with KTIC, will be an annual affair and added into the state tourism calendar. http://arkeologi.usm.my