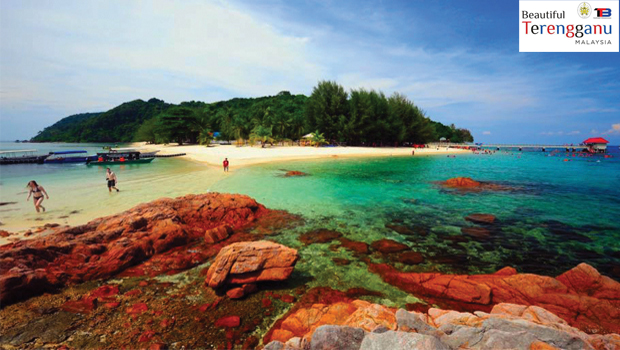 Beautiful Terengganu unveiled
The Pre-Launch of Visit Terengganu Year 2017 with a tagline "Beautiful Terengganu" marks the beginning of a-year-long campaign to promote the state.
Themed "There's More to Terengganu than What You Know", Terengganu state government aims to focus on their inland attractions, especially Lake Kenyir.
Kenyir is famous of its natural wonders especially for its 340 small islands scattered around the lake along with waterfalls, rivers and numerous species of freshwater fish. Being one of the "gate" to Malaysia National Park in peninsular, Kenyir is surrounded with a vast tropical rainforest which is also amongst the oldest rainforests in the world.
To cater to niche market of ecotourism around the lake, specially designed activities have been put into action such as boating, island hopping, carnivals, and competitions. Apart from Kenyir, the state government has put forward a comprehensive plan to promote other inland attractions namely Taman Tamadun Islam, Crystal Mosque, elephant village, and caves.
In order to provide top class services to tourists, steps have been taken to improve facilities, accommodations, and connectivities in Terengganu, especially the connectivity from the airport to inland tourist spots and to islands. The connectivity from the airport to Lake Kenyir is expected to be ready in one and a half year time, while at the same time, 4000 more hotel rooms are being built to accommodate increasing tourists arrival by 2017.
Besides major developments that are taking place now, the state is also active in an ongoing conservation efforts such as coral conservation, solar and wind mill energy use, limiting the number of visitors into coral sensitive areas, and underwater cleaning to maintain the sustainability of touristy spots.
During the Pre-Launch of Visit Terengganu Year, guests were treated with traditional songs and dances of the East Coast States. Not to forget, the popular Nasi Dagang (commercial rice with dishes) and keropok lekor (thick fried fish cracker).
The Chief Minister of Terengganu, Dato' Seri Haji Ahmad Razif Abdul Rahman was committed that Terengganu will step up its marketing activities to attract various target segments of tourists. These activities will be designed to boost the average tourist spending and duration of their stay in the state. Targeting 6.5 million of tourist arrivals over the next five years, Dato' Razif is confident that the target will be reached.